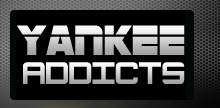 News published by
June 10, 2013
Every New York Yankees fan can agree on one thing: Alex Rodriguez needs to go.While that is the overwhelming opinion of most in the Bombers' universe, there isn't a chance ...
June 9, 2013
Michael Pineda's tenure with the New York Yankees has been marred by bad decisions and bad luck, but things may finally be turning around for the 24-year-old starting pitcher.According to ...
May 25, 2013
The New York Yankees continue to shock the baseball world with a great start to the 2013 campaign, and in that start, the Bombers are proving to themselves that it ...
May 14, 2013
The New York Yankees faced very different prospects than they are normally used to when the 2013 season began, but in the face of adversity, this year's version of the ...
February 28, 2013
The New York Yankees are in a unique position this season as they find themselves with holes to fill during spring training and it appears they will look in house to ...
February 25, 2013
The New York Yankees' current roster has both young and aging players on one-year deals who could either retire or fly the coop after the 2013 season, so the Bombers ...
February 14, 2013
It's a strange time to be a New York Yankees fan. The team is currently in a transition with a goal of lowering payroll to $189 million, and while they ...
February 6, 2013
The New York Yankees have been the king of bad contracts over the past decade, but thrown in there also are some bad moves this team has made in other ...
January 31, 2013
Every spring training, MLB teams give their youngest players a look in the hopes that they find a guy who can help their team for the upcoming season. While the ...
January 24, 2013
An increasingly competitive American League East division will no doubt make things harder for the New York Yankees. As a result, their chances of missing the playoffs are growing by ...