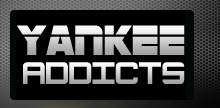 June 9, 2013 · Michael Moraitis · Jump to comments
Article Source: Bleacher Report - New York Yankees
Michael Pineda's tenure with the New York Yankees has been marred by bad decisions and bad luck, but things may finally be turning around for the 24-year-old starting pitcher.
According to Andy McCullough of The Star-Ledger (via Twitter), Pineda made his first rehab start since undergoing shoulder surgery last season and it was nothing short of a success:
Final line on Pineda: 4.1 IP, 2 H, 1 R, 0 ER, 1 BB, 4 K. I believe the run scored after he left the game.

— Andy McCullough (@McCulloughSL) June 9, 2013
Pineda's time in the pinstripes has been rocky at best.
After suffering the injury mentioned above that knocked him out of the 2012 season and until this point in the 2013 season, Pineda was arrested for DUI last August, which further added to the doubts about his future viability with the team.
But after this solid start and his road to recovery nearing its end, all that will be forgotten and the only question that will remain is if Pineda can help the team this season. There's no question that if he can continue to progress the way he has been, it looks like it's a strong possibility Pineda will return in the very near future of the 2013 season.
Not to mention the Bombers could use his help considering their rotation hasn't had a great deal of consistency stemming from a bit ineffectiveness and injury to the current rotation's members.
I'm not ready to guarantee his return this season despite this recent bit of good news. It has been a very long road for Pineda to come back to the mound, and the Yanks are hoping he is the future of their rotation, so there's no chance he'll be rushed back.
Instead, New York will take its time with Pineda, and that could keep him out even longer than what is maybe needed. On top of that, even general manager Brian Cashman has said he isn't sure where Pineda will end up once his rehab is finished, per The Trentonian's Josh Norris via Twitter:
Cashman noted yesterday that once Pineda's rehab is up he'll either go "to the major leagues or the minor leagues." #Yankees

— Josh Norris (@jnorris427) May 30, 2013
Not long ago, it looked as though the Yanks might get the short end of the stick in the deal that sent their former top prospect, Jesus Montero, to the Seattle Mariners in exchange for Pineda, but now that seems to have the potential to turn around.
Montero did have a solid rookie season after posting 15 homers and 62 RBI with a .260 average, but since then he has struggled in Seattle to the tune of just three homers and nine RBI with a .208 average in 2013.
His issues have also landed him in the minors during the course of this season and before his disappointing 2013 campaign, Montero was even linked to possible performance-enhancing drug use.
Montero is currently healing up from a torn meniscus, which should keep him out about another month or so.
So now Pineda and the Yanks have a golden opportunity to turn their fortunes around, but that will all depend upon the arm of Pineda himself. But before any of that can happen, the young right-hander must actually fully recover and it looks like that is happening according to plan.
Read more New York Yankees news on BleacherReport.com