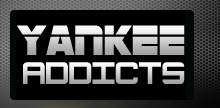 January 31, 2013 · Michael Moraitis · Jump to comments
Article Source: Bleacher Report - New York Yankees
Every spring training, MLB teams give their youngest players a look in the hopes that they find a guy who can help their team for the upcoming season.
While the hope for several players is high, sometimes that hope can be unwarranted, with the prospect having proved nothing at the major-league level.
For the Yankees, they will have a few players set to be overhyped as spring training begins. Granted, it doesn't mean these players won't succeed, but there are some unreal expectations placed on their shoulders.
Let's take a closer look at who fits the bill.