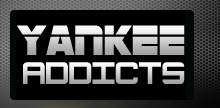 March 4, 2010 · Bronx Baseball Daily · Jump to comments
Article Source: Bleacher Report - New York Yankees
The offseason is over and the Yankees roster is pretty much set, but since they signed relief pitcher Chan Ho Park there has been a glut of relievers and something has got to give. Whether it be an injury or two that solves the logjam or even a trade—that has yet to be seen.
Two of the pitchers that are seemingly on the bubble though are Sergio Mitre and Chad Gaudin. They're two pitchers who fill the same role, long relief/emergency starter, and because the Yankees rotation and bullpen project to be so strong this season their long reliever is not likely to get a ton of playing time, let alone enough playing time for two.
So there has been a general perception that it won't be long until one of them is traded. Which one is hard to say though because while Gaudin certainly seems better, he also makes a lot more money compared to Mitre (Gaudin makes $2.95 million versus Mitre's $0.85 million). I should point out though, just because the perception is that one of them will get traded, doesn't mean that one of them will get traded. As the old saying goes, you can never have enough pitching and an injury could straighten this entire situation out.
So far it doesn't seem like Yankees general manager Brian Cashman is in a hurry to move either arm. According to Jack Curry of the YES Network , the plan is to wait until late spring. Cashman also told Curry that nobody has called about either pitcher yet.
It makes sense that Cashman would want to wait to deal either pitcher for two reasons. The first is because of injuries. Just because there is extra pitching now doesn't mean it'll be the same way a month from now. Last season the Yankees had too many outfielders, held on to everyone, and then Xavier Nady got hurt and it turned out to be very good they held on to both.
The second reason Cashman should be waiting to deal a pitcher is because of the situation they have with Rule 5 draftee Jamie Hoffmann. As a Rule 5 pick, if he doesn't make the team out of spring training and stay on the 25-man roster the entire season, the Yankees have to offer him back to the Dodgers. There is another scenario though and it involves working out a deal with the Dodgers and since they already seem light on pitching the two teams could work out a deal where they offer one of the pitchers to them in exchange for the rights to Hoffmann.
That doesn't have to be the way it goes down, but that it one possible scenario. We'll see how it plays out and keep all you readers updated.
If the Yankees dealt one of them, which one would you like to see kept? Why?
Related Stories
Read more New York Yankees news on BleacherReport.com