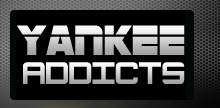 News published by
July 28, 2011
Rich Harden hasn't pitched much this season thanks to his usual array of injuries, but he started Thursday night for the Oakland Athletics, and the Yankees were there to ...
July 28, 2011
Via Dan Martin of the NY Post: "I'm going to be hard-pressed to find anything better than getting Bartolo Colon and Phil Hughes off the disabled list," the ...
July 28, 2011
Perhaps in response to Phil Hughes' poor outing yesterday, the Yankees reportedly intensified their efforts to land Dodger starter Hiroki Kuroda yesterday. Joel Sherman of the NY Post reported ...
July 20, 2011
Via Jon Heyman of Sports Illustrated: Yankees unwilling to trade big prospect for reliever; think they'll be OK in pen. seek SP but still see Ubaldo as longshot With Rafael ...
July 19, 2011
Dellin Betances pitched for the Double-A Trenton Thunder last night.It wasn't a pretty sight, as he allowed four runs in five innings on six walks. Not an impressive performance, especially ...
July 15, 2011
Via George King of the NY Post: The Yankees were one of 17 teams in Denver on Thursday night to watch Ubaldo Jimenez pitch. According to several talent evaluators, they ...
July 15, 2011
The New York Yankees' starting pitching situation hasn't been dire so far this season as many expected, but it could end up that way soon if Bartolo Colon and ...
May 16, 2011
While I was gone, the Yankees picked up right-handed pitcher Jess Todd off of waivers from the Indians, also cutting IF Kevin Russo from the 40-man roster in ...
March 2, 2011
Via Jon Heyman of Sports Illustrated: Though he knew he wanted out of Kansas City, which has a promising future but looks like it will have a brutal present, [Zack ...
March 2, 2011
Via Ken Rosenthal of Fox Sports: "The Yankees at one point this offseason dangled right-hander Ivan Nova and infielder Ramiro Pena for [Francisco Liriano], according to a major ...