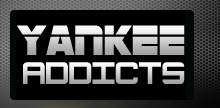 March 18, 2013 · Jason Martinez · Jump to comments
Article Source: Bleacher Report - New York Yankees
The 2013 season already appeared as if it would be one of the New York Yankees' most challenging in years. They had many holes to fill, a lack of prospects ready to help out at the major league level and a $189 million luxury tax threshold they're reportedly trying to get under before the 2014 season, which has limited them to mostly one-year contracts for veteran players this offseason.
In addition, the Toronto Blue Jays and Baltimore Orioles are on the rise, and the Tampa Bay Rays, despite their payroll limitations, are expected to be competitive year in and year out. The other team with a ton of holes to fill this offseason, the Boston Red Sox, signed several players to multi-year deals because they weren't handcuffed by bad long-term contracts—thanks to the Los Angeles Dodgers.
The Yankees needed their veteran core to stay healthy and produce to avoid what could be a very long season in New York. We already knew Alex Rodriguez would be unavailable for at least a few months, maybe longer, as he recovers from hip surgery. Shortstop Derek Jeter is coming back from ankle surgery. Mariano Rivera is returning from knee surgery. Both appear to be on track and healthy for Opening Day.
But now they're forced to deal with injuries to starting center fielder Curtis Granderson, who is expected to miss at least the first month of the season, and first baseman Mark Teixeira, who was believed to have suffered a strained tendon sheath in his wrist that would have kept him out of action for approximately the first two months of the season. Now we've learned that the tendon is partially torn, meaning that there's a chance it could require season-ending surgery.
Current in-house options to replace Teixeira are Juan Rivera and Dan Johnson. Kevin Youkilis could also slide over to first base with Eduardo Nunez getting a majority of at-bats at third base. Rodriguez's uncertainty, however, makes it unlikely that they'll plan around him coming back and filling a hole. Acquiring a full-season replacement for Teixeira has to at least be an option now.
Keep in mind that the Yankees don't really have the trade pieces to go out and acquire a bigger name, even if that player was available.
So, here are a few affordable options they could target.