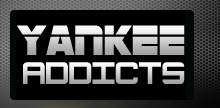 News published by
February 18, 2014
In a recent survey of 23 front office executives conducted by ESPN's Jayson Stark, the New York Yankees were chosen as the most improved team of the offseason. And, at ...
February 13, 2014
New York Yankees shortstop Derek Jeter announced Wednesday, via his Facebook page, that he'll retire after the 2014 season. While this isn't a huge surprise considering he'll be 40 years old ...
January 13, 2014
Peter Gammons of GammonsDaily.com recently suggested that New York Yankees general manager Brian Cashman wouldn't trade outfielder Brett Gardner "until and unless he has to for starting pitching." This scenario, ...
January 11, 2014
New York Yankees third baseman Alex Rodriguez's 211-game suspension was reduced to 162 games Saturday, and he won't be eligible for the postseason. While Rodriguez doesn't appear to be giving up ...
January 9, 2014
On the surface, the New York Yankees would seemingly benefit greatly from a suspension that would keep third baseman Alex Rodriguez out for the entire season and possibly beyond—he is ...
January 7, 2014
There are no perfect offseasons, though Boston Red Sox general manager Ben Cherington came pretty close last offseason. Signing Ryan Dempster (4.57 ERA) to a two-year deal may not have ...
December 6, 2013
Robinson Cano's ten-year, $240 million deal with the Seattle Mariners, which was first reported by Enrique Rojas of ESPNDeportes (spanish link) earlier in the day, ties him with Albert Pujols ...
November 1, 2013
We can make all the predictions we want about the upcoming offseason. But the reality of the prediction business is that each time a move is made that comes out ...
October 31, 2013
While this year's class of free agents appears relatively thin in some areas, particularly in the middle infield and third base, it's a strong group overall, with catching, outfield, pitching ...
October 28, 2013
While it took five days before the first free agent signed with a new team last offseason—Maicer Izturis left the Los Angeles Angels to sign a three-year deal with the ...