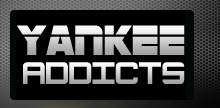 October 1, 2011 · Rick Weiner · Jump to comments
Article Source: Bleacher Report - New York Yankees
Welcome to Bleacher Report's live, ongoing coverage of the American League Division Series between the Detroit Tigers and the New York Yankees.
Last night, Game 1 was rained out after the top of the second inning and as per baseball's new rules, we will start tonight's game where we left off—tied at one with the bottom third of the Yankees lineup (Jorge Posada, Russell Martin and Brett Gardner) set to get things going.
Of course, neither starting pitcher from last night will be returning to the mound. Instead, the Tigers will send out trade deadline acquisition Doug Fister while the Yankees counter with Rookie of the Year contender Ivan Nova.
We will be with you all night long, before, during and after the game with analysis, updates, reaction and endless hours of entertainment, so make sure you check back often for the very latest from the Bronx!
Game over, Yankees win 9-1 to take a 1-0 lead in the series.
Game Two is tomorrow afternoon at 3pm EST, be sure to check back here starting at noon for the latest leading up to the game!
Read more New York Yankees news on BleacherReport.com