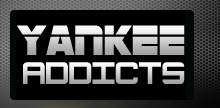 News published by
January 10, 2017
The New York Yankees remain a team in flux, heading into spring training with a roster that could contend—or fall short of the playoffs for the fourth time in the ...
October 6, 2015
After two years away, the New York Yankees made their triumphant return to playoff baseball only to be shut out by Houston's Dallas Keuchel, losing 3-0 to the upstart Astros ...
July 15, 2015
The New York Yankees will begin the season's second half atop the American League East, but the division is still very much up for grabs as less than seven games ...
February 13, 2015
The grass has been cut, the infield raked and the New York Yankees are just about ready to head south for what's left of a brutal, unforgiving winter. Spring training is ...
October 31, 2014
For the first time in nearly 20 years, the New York Yankees head into the offseason without a clue as to who will be the team's starting shortstop. Derek Jeter's final ...
September 7, 2014
For almost two decades, Derek Jeter has been a fixture in the Bronx. He's the face of the most well-known sports franchise in the world; the face of baseball. It seems ...
July 1, 2014
Those expecting the New York Yankees to sit back and wait for the nearly $500 million that they spent in free-agent additions over the winter to begin paying off simply ...
March 16, 2014
With a pair of exhibition games against the Miami Marlins in Panama City, the New York Yankees ensured that the first act of Derek Jeter's farewell tour paid respect to Mariano ...
October 31, 2013
After missing the playoffs for only the second time since 1995, the New York Yankees and GM Brian Cashman head into the offseason with multiple problems to deal with. Mariano Rivera's ...
August 16, 2013
Alfonso Soriano thinks that the year is 2002 and that he's a 26-year-old hotshot second baseman for the New York Yankees. It's the only rational explanation for the 37-year-old outfielder's incredible ...