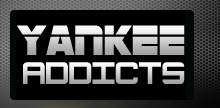 March 25, 2010 · Jordan Schwartz · Jump to comments
Article Source: Bleacher Report - New York Yankees
So it was all for nothing.
The innings limits, the pitch limits, the extra days off between starts the Yankees forced Joba Chamberlain to undergo during the second half of 2009—that rendered him impotent come the playoffs—under the guise that they were "protecting his arm" so that he could at long last become a full fledged starter this season…it was all a lie.
Tossed aside because of 3 2/3 spring innings.
That's how long it took for Joe Girardi to forget the past two years, during which Chamberlain went 12-7 with a 4.18 ERA as a starter and Phil Hughes went 3-6 with a 6.03 ERA as a member of the rotation, and name Hughes the fifth starter for 2010.
Joba struggled mightily in his first two appearances this spring, allowing 11 earned runs in 3 2/3 frames. Forget that he was overcoming a bout with the flu and went on to toss eight strong innings in his next two outings. The sickness is just an "excuse."
Saying Hughes surrendered three home runs in his most recent game against the Phillies because of the wind? That's a legitimate "reason."
But this is nothing new for Chamberlain, who has been criticized, scrutinized and held to a much higher standard than any 24-year-old pitcher in the history of the game.
It all started in early August 2007, when then-manager Joe Torre, desperate for some bullpen help, called up the right-hander to bridge the gap to Mariano Rivera.
Naturally, the 22-year-old dazzled as a middle reliever, throwing in the high-90's because he only had to pitch one inning a game.
I'm sure Justin Verlander or any other hard-throwing young starter would've also excelled in this easier role, but that's not how many Yankees fans saw it.
"Keep him in the bullpen!" they cried. "He'll be the next Mo!"
But the 'pen is no place to waste budding talent. It's a last refuge for failed starters who can only go one or two innings because they only have one or two pitches.
Rivera didn't become a great closer until after New York realized he couldn't cut it as a member of the rotation. Mo was 3-3 with a 5.94 ERA in 10 starts in 1995 before being shipped to the ninth inning.
Chamberlain hasn't even had his chance to fail.
During that '07 season, the Yankees employed the "Joba Rules" so that Torre wouldn't break his new toy. The Nebraska native was only allowed to throw a certain amount of pitches in a certain amount of innings within a certain amount of days.
Because, after all, they were breeding him to be a starter.
That winter, the first Joba starter/reliever debate began and when the '08 season rolled around, he was in the bullpen.
Instead of stretching out their starter in the minor leagues like most organizations do, New York decided to have Chamberlain undergo the transition under the bright lights of a major league season in the Bronx.
But Joba overcame that challenge, going 3-1 with a 2.76 ERA in 12 turns in the rotation. The Bombers, meanwhile, were 8-4 in those starts.
However, Chamberlain got hurt on Aug. 4 and when he returned a month later, the Yankees chose to put him back in the bullpen, reviving the foolish starter/reliever battle for another winter.
In 2009, Joba started the season where he belonged: in the rotation. This would finally be the year we could forget about all the ridiculous "rules" and just let him pitch, right? Wrong.
Chamberlain struggled with his control at times, but still started the season 7-2 with a 3.58 ERA, capped off by an impressive 3-0, 0.83 ERA run after the All-Star Break.
That's when the front office thought it would be a good time mess with Joba again. They threw off his routine by skipping some of his starts and then completely dismantled any momentum he had by restricting him to only a few innings or 60 pitches, whatever came first.
Not surprisingly, Chamberlain went 2-4 with a 7.69 ERA over his final 11 "starts."
Let me repeat this because I feel like many fans have forgotten: Joba Chamberlain was 7-2 with a 3.58 ERA last July 29. He was helping the Yankees win games.
But it was OK that Girardi and general manager Brian Cashman were messing with the pitcher, because they were protecting him, keeping his innings down so that he could finally progress to a 200-inning starter in 2010.
That was before the team traded for Javier Vazquez this past offseason, igniting a whole new debate: Who will be the No. 5 starter, Joba or Phil?
It's ironic how the same people who thought Chamberlain should've been kept in the bullpen after the 2007 season, because the Yankees were "never going to find another guy like him to pitch the eighth," were the same clamoring for that "other guy" to be yanked from the setup role in which he too excelled and put in the rotation ahead of Joba.
Don't get me wrong, I don't think Hughes should waste away in the bullpen either. He should get another shot to start, but not ahead of a guy who has a run better ERA in their careers in the rotation.
I didn't think New York needed to pick up Vazquez. They could've put Chamberlain in the No. 4 slot and then re-signed Chien-Ming Wang to replace Hughes at the No. 5 once he was healthy enough around June.
This would've helped Hughes get his innings up because he's never thrown more than 86 in his big league career, so expect the same thing that happened to Joba last August to happen to Hughes this summer.
Actually, no. Hughes will probably be allowed to pitch 200 innings this year.
Follow me on Twitter at JordanHarrison .
Jordan Schwartz is one of Bleacher Report's New York Yankees and College Basketball Featured Columnists. His book Memoirs of the Unaccomplished Man is available at amazon.com, barnesandnoble.com, and authorhouse.com.
Jordan can be reached at jordanschwartz2003@yahoo.com
Read more New York Yankees news on BleacherReport.com