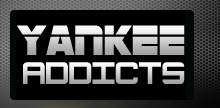 June 19, 2009 · Perry Arnold · Jump to comments
Article Source: Bleacher Report - New York Yankees
Late in the game between the New York Yankees and the Washington Nationals on Thursday evening, Nationals outfielder Austin Kearns hit a ball high and far into center field.
Yankee outfielder Brett Gardner went back on the ball, caught it about two feet from the wall, and then slammed into the pad hitting his head on the plexiglass in front of the bullpens.
Replays showed that his head snapped back violently before striking the glass.
Gardner managed to hang onto the ball for an out and somehow flipped it toward left fielder Johnny Damon could retrieve it.
The he laid on the ground as staff and teammates hurried to his side.
Almost immediately, this observer feared that it was not his head that was injured but his neck and upper back. This is a classic example of the manner in which "whiplash," or cervical strain/sprain injuries, can occur.
When the body stops and the head continues in motion, the soft tissues of the neck and upper back are often stretched and torn.
The curious aspect of these types soft tissue injuries is that often the seriousness is not evident for several days, and it may worsen for weeks after the trauma occurs.
Whiplash is often seen in the victims of minor car accidents.
As Gardner was brought to a sitting position on the ground and then placed on the cart with trainer Gene Monahan, he was holding his head in a very odd position.
It was surprising, considering the manner in which the injury occurred, that a cervical collar was not immediately put on the player.
Cervical strain/sprain injuries are often long term (and sometimes permanent) injuries. If this turns out to be case, Gardner may not be ready to play for the Yankees for a long time.
It was reported today that he was also complaining of a headache. There was no apparent concussion, but a head injury in addition to the cervical strain/sprain injury cannot be ruled out.
Coup/contre coup injuries can often occur in the brain, even when there is no actual blow to the head itself.
Without question, medical personnel will keep a close eye on the young player. But there are certainly other things to be wary of in addition to concussion.