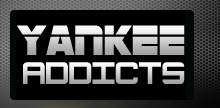 News published by
April 29, 2011
All those who are New York Yankee fans remember the frustration we felt with the stupid Joba Rules a couple of years ago. For those who may not remember, the Yankee ...
April 27, 2011
Discussions have continued since the failure of the New York Yankees to land Cliff Lee in the offseason that the Yankees must trade for an ace starting pitcher. Most Yankee fans ...
April 25, 2011
On WFAN and YES today, Mike Francesca said that the New York Yankees should put together a trade for Felix Hernandez of the Seattle Mariners. King Felix is regarded by ...
April 20, 2011
Last night, some guys north of the border pulled on Superman's cape. In fact, they pulled it off. In a land where almost everyone was focused on Stanley Cup Playoffs, the ...
April 18, 2011
Within a few days of the end of the 2010 World Series, a contest in which most Yankee fans had no more than a passing interest, thoughts turned to 2011 ...
April 15, 2011
During spring training, New York Yankees manager Joe Girardi made the decision to elevate Brett Gardner to the leadoff slot in the Bombers' batting order. After 11 games Gardner is hitting ...
April 15, 2011
Those who deny that Jesus Montero could be a major-league catcher usually start by saying that he is too big. People say he must be shifted to first base or ...
April 15, 2011
Last night's game was the last straw for the New York Yankees! Brett Gardner and Derek Jeter have proven finally and forever that they should not be at the top of ...
April 14, 2011
In today's New York Daily News, John Harper wrote that Jesus Montero's hot start in Triple-A may give Brian Cashman a better opportunity to trade for a top-of-the-line starting pitcher. I think someone ...
April 7, 2011
Tom Mechin recently had a very good article on Derek Jeter and acknowledged that he is a great player.  He even pointed out that he is probably a first ballot ...