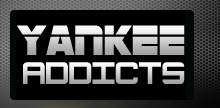 February 13, 2010 · Bronx Baseball Daily · Jump to comments
Article Source: Bleacher Report - New York Yankees
According to George King of the NY Post , the Yankees have set their sights on a Cuban defector, Adeinis Hechavarria , once he becomes eligible to be signed possibly as soon as next week.
"The Yankees have been on him for a while," said a scout who saw the 21-year-old shortstop work out recently in the Dominican Republic. "Two weeks ago, about 50 scouts watched him work out and the Yankees were there. They also have seen him in smaller workouts."

Because the Red Sox gave 19-year old shortstop Jose Iglesias $8 million, industry sources expect the right-handed-hitting Hechavarria to command a $7 to $8 million signing bonus.

"Maybe more because his bat is better than Iglesias'," a scout said.

Hechavarria, who defected in Mexico last year, played short for the Cuban Junior National team two years ago.

"There has been a lot of interest," said agent, Bart Hernandez, without mentioning teams. "He is a legitimate player with a chance to be a real good one."

Though the Yankees view the 6-foot, 170-pounder strictly as a shortstop, others believe he could travel the same path the Rays' B.J. Upton took: shortstop to impact center fielder.

"He is a very good athlete and runs real well," the scout said. "I don't see him as a shortstop, I think he has a chance to be a center fielder in the mold of B.J. Upton. His throwing actions at short are kind of long."
I don't know much about Hechavarria, but if the Yankees are willing to offer him as much as $8 million he is either really good or Kei Igawa .
George King is calling him the heir to Derek Jeter , but that's just a typical post writer inserting a great deal of hyperbole into his article. As a 21-year-old—who teams are saying could be more like BJ Upton the center fielder than BJ Upton the shortstop—he is probably at least a few years away from challenging anyone in the majors.
Just a guess, but I'd imagine he's at least two-three years away from the majors.
Anybody know anything more about this guy?
Update: The blog Cuban Baseball Players has some more information on Hechevarria. Apparently he is a pretty solid defensive shortstop. His report is a bit confusing. The Post had him at 21-years-old, but CBP had him as a 19-year-old. They also said he's 6′ and 160 lbs. They did say that he was the best shortstop in Cuba at the time he left.
I'll post more if I hear anything more substantial.
Most Commented Posts
Read more New York Yankees news on BleacherReport.com