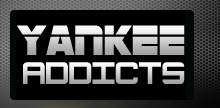 December 5, 2012 · Zachary D. Rymer · Jump to comments
Article Source: Bleacher Report - New York Yankees
With Russell Martin signing with the Pittsburgh Pirates last week, veteran catcher A.J. Pierzynski has been suggested as a possible replacement behind the dish for the New York Yankees.
Yeah…that's a bad idea. The appeal isn't hard to see to be sure, but putting Pierzynski in pinstripes would be alike trying to smash a square peg through a round hole with a sledgehammer.
But first things first. There's more than just speculation going on here. There are actual rumors (which are always fun) linking the possibly former Chicago White Sox catcher to the Yankees.
Bryan Hoch of MLB.com heard from Yankees GM Brian Cashman himself that the club has spoken to Pierzynski's reps, and Phil Rogers of the Chicago Tribune has heard from rival suits that the Yankees are even in talks to sign the soon-to-be 36-year-old catcher:
According to executives with other teams, the Yankees are in talks to sign A.J. Pierzynski. Certainly seems like a good fit for both sides.

— Phil Rogers (@ChiTribRogers) December 4, 2012
However, Joel Sherman of the New York Post says he's gotten "strong indications" that the Yankees aren't planning on pursuing Pierzynski. Knowing that, Rogers' report should be taken with a grain of salt.
Sherman himself is in favor of the idea of the Yankees signing Pierzynski. He notes that Pierzynski could be had for relatively cheap over a short amount of time and that the Yankees only need a short amount of time to groom Austin Romine. Plus, they only need a couple years to develop Gary Sanchez.
Pierzynski has always been solid behind the plate, as well as a solid hitter. He has a career slash line of .284/.324/.429, and he's coming off a year in which he posted an .827 OPS and hit a career-high 27 home runs.
This would be the appeal that's easy to see. The Yankees need a legit starting catcher with Martin gone, and Pierzynski is certainly a legit starting catcher.
But here's the part of Sherman's bit on Pierzynski that triggers flashing red lights:
He is feisty and not universally beloved even in his own clubhouses, but Pierzynski's edge would aid a Yankee team that at times seems to be sleepwalking through the regular season.
This is as euphemistic as one can possibly be when talking about Pierzynski's reputation. It's easy to call him feisty and indicate that he's misunderstood, but the honest stance is that he's just plain mean and one of the most loathed players in all of baseball.
A Sports Illustrated poll of 215 players back in 2011 revealed Pierzynski to be the meanest player in all of baseball. More recently, a survey of 100 players by Men's Journal carried out earlier this year revealed Pierzynski to be the most hated player in the league by a mile.
To his credit, Pierzynski gets it.
"Everyone wants a villain," he told Ben Reiter of Sports Illustrated in August. Pierzynski then compared himself to LeBron James, because of course, he did.
Villain though he may be, Pierzynski has his defenders. White Sox manager Robin Ventura called him the "nicest guy in the world." Slightly more to the point, Adam Dunn said that Pierzynski is "not any more of a d*** than anyone else."
But Pierzynski's reputation for being a scoundrel hasn't materialized out of thin air. Reiter's article mentioned commonplace vices like abusing equipment, cursing loudly when behind the plate, boisterous celebrations when he makes a play and assorted other failures to abide by baseball's unwritten rules. It's a gentleman's game, you know.
Stuff like this paints a portrait of a guy who doesn't know where the line is. Or maybe he knows where the line is and just doesn't give a you-know-what. Either way, he doesn't mind crossing it, and he doesn't care who he ticks off when he does.
A few noteworthy line-crossing incidents come to mind. Some of them are ancient history by now, like the time in 2004 when Pierzynski supposedly kneed then-San Francisco Giants trainer Stan Conte in the groin and the time he got into a brawl with Chicago Cubs catcher Michael Barrett in 2006.
Other incidents aren't ancient history. It was only a few years ago that he drew the ire of the Minnesota Twins for seemingly going out of his way to clip Justin Morneau's foot as he was crossing first base. Last year, he got into a heated argument with White Sox hurler Jake Peavy that started in the dugout and went into the tunnel. In 2012, he ticked off the Tampa Bay Rays by going into second base with his spikes up at Ben Zobrist and another incident involving Sean Rodriguez's bat later in the game.
It's OK to be a feisty player. There are lots of those, and they're great to have around.
But being a feisty player who can't keep his ego in check and who specializes in bush-league tactics on the field is considerably less OK. That's Pierzynski in a nutshell, and it's why he's so universally loathed across Major League Baseball.
Now, picture a guy like this on the Yankees. If you're optimistic, you'd say he would bring toughness and fire to the clubhouse, as Sherman did. More likely, he'd be a ticking time bomb.
The Yankees have their share of unlikable characters (see Rodriguez, Alex), but the club's core of leaders are classy gents. It's impossible for anybody to hate Derek Jeter, who is still the central figure in the clubhouse as the team captain and leader by example. Andy Pettitte and Mariano Rivera are still central figures as well.
Elsewhere, players like CC Sabathia and Curtis Granderson are high-character guys. Manager Joe Girardi somehow manages to exude both toughness and calmness.
I have to agree with Sherman that the Yankees did seem to be "sleepwalking" at times during the regular season, but Girardi and the club's key players were clearly doing something right. The Yankees won 95 games despite the fact their roster was decimated by injuries and the competition level in the AL East was high all year.
More grit and toughness are always welcome in any clubhouse, but the problem with Pierzynski is that he brings more than grit and toughness to the table. He brings a certain presence that would threaten to disrupt the character of the clubhouse forged by the likes of Jeter, Pettitte, Rivera, Sabathia and Granderson.
Those guys are calm, cool, collected. Pierzynski is not. It would be sort of like throwing George S. Patton into a room of politicians and asking everyone to keep calm and get along.
It's hard enough to imagine Pierzynski not becoming a distraction, and goodness knows the media wouldn't help matters. His antics generating headlines is nothing new, but his antics would surely incite panic in a place like New York.
We're talking about the New York media, after all. Not to mention the Yankees. And A.J. Pierzynski, of course. This is a recipe for disaster fit for The Anarchist Cookbook.
The Yankees have to deal with enough headaches throughout the course of the season. This is a case where they can easily avoid signing up for a potentially major headache they would come to regret.
They're better off playing it safe. They can do that by staying in house with the catchers they have and adding offense at other positions or by targeting other free-agent options like Kelly Shoppach or Yorvit Torrealba.
Anybody but Pierzynski, really.
Note: Stats courtesy of Baseball-Reference.com.
If you want to talk baseball, hit me up on Twitter.
Read more New York Yankees news on BleacherReport.com