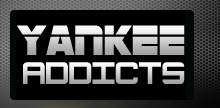 March 22, 2010 · Bronx Baseball Daily · Jump to comments
Article Source: Bleacher Report - New York Yankees
Thought to be the possible fourth outfielder on the Yankee bench to start the season, Rule 5 draft pick Jamie Hoffmann struggled in Spring Training, to say the least.
Hoffmann was returned to the Dodgers today, after being taken as the first overall pick in the Rule 5 Draft in December. Hoffmann hit just .130 (3-22) as a Yankee this spring. The Yankees traded RP Brian Bruney and $25,000 to the Nationals for the first pick in the draft.
The four remaining outfielders at Yankee camp are the front-runner, Marcus Thames who is batting just .107 (3-28), the speedy Greg Golson (.300 [6-20] 1 HR 5 RBI), David Winfree, and non-roster invitee Jon Weber, who leads the team with a .571 average (12-21). Weber, however, is a lefty (as are Granderson and Gardner), making his chances less likely.
Other notes: Jason Hirsh and Dustin Moseley were sent to Minor League camp. Along with them go infielders Reegie Corona, Brandon Laird, Eduardo Nunez and Jorge Vazquez
Related Stories
Read more New York Yankees news on BleacherReport.com