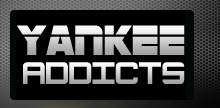 April 16, 2010 · Jordan Schwartz · Jump to comments
Article Source: Bleacher Report - New York Yankees
The Yankees have won each of their first three series by a count of two games to one, and they'll hope to keep that success going this weekend as they welcome the Texas Rangers to town.
The Rangers are 5-4, tied in the loss column with first-place Oakland, and have received some solid pitching so far. Texas is third in the American League with a 2.95 ERA, fourth in batting average against (.238), fourth in WHIP (1.28), and third in quality starts at seven.
They'll put those solid stats to the test during these three games against the powerful Yankees lineup.
Let's break down the pitching matchups.
Friday, April 16: CC Sabathia (1-0, 3.46 ERA) vs. C.J. Wilson (0-0, 0.00 ERA)
Sabathia is coming off one of the best starts of his career, falling just four outs shy of a no-hitter in a 10-0 win over the Rays. The big lefty struck out five and walked two.
Now, CC returns to Yankee Stadium, where he hasn't lost a regular-season game since July 2.
The southpaw is 7-3 with a 4.50 ERA in 13 starts against the Rangers. The current roster hits just .233 with a .288 on-base percentage versus Sabathia, and only Michael Young (11-for-35, .314) has had any success.
Vladimir Guerrero is 3-for-15 (.200), Josh Hamilton is 0-for-7 with three strikeouts, David Murphy is 1-for-6 (.167), Andres Blanco is 1-for-5 (.200), and slugger Nelson Cruz is 0-for-3 with two K's.
Wilson threw seven scoreless frames with nine strikeouts in his 2010 debut against the Blue Jays on April 8 but then had his next start delayed due to illness. It appears he is feeling better and will pitch Friday night.
The left-hander, who is back in the rotation for the first time since '05, is 0-2 with a 3.24 ERA in 17 relief appearances versus New York. He allowed two runs but struck out six in 4.2 innings at Yankee Stadium last year.
Not many Bombers have good numbers off Wilson, with Alex Rodriguez at 0-for-9 and Robinson Cano at 2-for-9 (.222).
Nick Swisher, however, is 5-for-13 (.385) with two doubles, a homer, and three walks. Derek Jeter is 2-for-6 (.333) with a home run and two bases on balls.
Saturday, April 17: A.J. Burnett (1-0, 3.75 ERA) vs. Scott Feldman (1-0, 2.57 ERA)
After a shaky first outing at Fenway Park, where Burnett surrendered four runs—three earned—in just five innings, the right-hander bounced back with a strong seven frames against the Rays.
Like Sabathia, Burnett is making his first start at home this year, where he thrived in '09 to the tune of a 5-3 record and a 3.51 ERA. On the road, the righty was 8-6 with a 4.59.
Burnett is 3-3 with a 4.05 ERA in nine appearances (eight starts) against Texas. Ryan Garko (5-for-12, .417) and Hamilton (4-for-11, .364) have owned the 33-year-old, but the rest of the Rangers have not been as lucky.
Guerrero is 9-for-42 (.214) with 11 strikeouts, Chris Davis is 0-for-9 with six K's, and Elvis Andrus is 1-for-6 (.167).
Feldman has gone seven innings in each of his first two starts, while keeping his WHIP to a tidy 0.93.
The right-hander is 2-1 with a 3.72 ERA in four games (three starts) versus the Yanks, but the current roster hits .305 off him with a .780 slugging percentage.
Leading the charge is Curtis Granderson, who is 4-for-6 (.667) with three homers against Feldman. While Jeter is only 2-for-9 (.222), those two hits were both long balls. Mark Teixeira is 3-for-10 (.300) with a home run, and Jorge Posada is 3-for-5 (.600) with a jack of his own.
Sunday, April 18: Andy Pettitte (1-0, 0.75 ERA) vs. Rich Harden (0-0, 2.79 ERA)
Pettitte has gotten off to a tremendous start in '10, yielding just one run in 12 innings, while striking out 10.
The veteran has not had much success against the Rangers over the years, however, amassing a 10-9 record with a 5.41 ERA in 22 starts.
Vlad is 9-for-23 (.391), Murphy is 4-for-8 (.500) with a homer, Hamilton is 3-for-6 (.500) with a home run, and Garko is 2-for-6 (.333).
Cruz, on the other hand, is just 1-for-9 (.111) versus Pettitte.
In his first year with Texas, Harden opened the season by only lasting 3.2 innings against the Jays. In his next start, however, the right-hander pitched six stronger innings at Cleveland.
The former Athletic and Cub has struggled with his control so far, walking eight, the third most in the American League. That's never a good thing when your next start comes against the patient Yankees.
In his career versus New York, Harden is 1-2 with a 4.50 ERA in seven appearances (six starts). He was 0-1 with a 3.52 ERA at the old Yankee Stadium but has not pitched at the new ballpark.
This might be a good day to give Posada a rest, as he is 3-for-15 (.200) against Harden. Teixeira (6-for-27, .222) and Cano (1-for-9, .111) also struggle in this matchup.
A-Rod, however, is 6-for-20 (.300), Jeter is 6-for-16 (.375) with four walks, and Randy Winn should get the start, as he is 5-for-14 (.357).
Follow me on Twitter at JordanHarrison .
Jordan Schwartz is one of Bleacher Report's New York Yankees and College Basketball Featured Columnists. His book Memoirs of the Unaccomplished Man is available at amazon.com, barnesandnoble.com, and authorhouse.com.
Jordan can be reached at jordanschwartz2003@yahoo.com
Read more New York Yankees news on BleacherReport.com