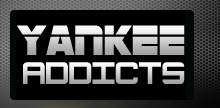 January 18, 2012 · Anthony Pucik · Jump to comments
Article Source: Bleacher Report - New York Yankees
The New York Yankees went from having a quiet offseason of no deals to making two deals that have gotten a lot of people talking.
The Yankees gave up their up-and-coming rookie catcher Jesus Montero and relief pitcher Hector Noesi to the Seattle Mariners for starter Michael Pineda and 19-year-old pitcher Jose Campos.
The Yankees also made a deal that same day, in the same hour, acquiring Los Angeles Dodgers free agent starting pitcher Hiroki Kuroda for one year, $10 million.
While these two deals add depth to a Yankee rotation that last year was solid at the top with a lot of question marks at the bottom, the Yankees now have a surplus of starting pitchers.
There are potentially seven members of the Yankees roster at the moment who can start for them. The question is: who are the Yankees going to go into the 2012 season with as their five man rotation?
Here is how I think the Yankees' starting pitching will pan out, as well as what will become of the other two pitchers who will not be starting.