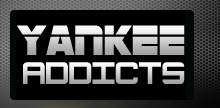 News published by
August 22, 2012
From a pitching phenom in 2007 to an injury-plagued potential minor league pitcher in 2012, how did the Yankees Joba Chamberlain go from hero to nearly zero? When Chamberlain came ...
May 31, 2012
After taking a look at Yankee hitting over two months, it's time to take a look at their pitching staff. The Yankees came into this season acquiring Mariners' rookie starter ...
May 30, 2012
Two months of baseball and the New York Yankees have not exactly exceeded expectations. Sitting at 26 wins and 23 losses, the Yankees find themselves in third place in the ...
February 8, 2012
The MLB season is quickly approaching and for the most part the Yankees have had a relatively quite offseason.Besides the deal sending Jesus Montero to the Mariners for starter Michael ...
January 24, 2012
Earlier today, New York Yankees now-former catcher Jorge Posada announced that he would be retiring from baseball after 17 seasons in pinstripes. Posada announced that he would not rejoin the ...
January 18, 2012
The New York Yankees went from having a quiet offseason of no deals to making two deals that have gotten a lot of people talking.The Yankees gave up their up-and-coming ...
November 15, 2011
Earlier this month, 40-year-old Jorge Posada announced that he would not re-sign with the Yankees next season, and would look for other teams that would give him options or simply ...
April 5, 2011
Looks like summer has come early for Mark Teixeira this year.  After two abysmal starts to the past two seasons, Teixeira is starting off 2011 very strong.  The Yankees first ...
January 11, 2011
After 18 years in the major leagues, all-times saves leader Trevor Hoffman has decided to retire from baseball with 601 saves.  Long-time New York Yankee closer Mariano Rivera is 2nd all-time ...