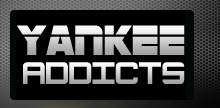 March 3, 2010 · Jordan Schwartz · Jump to comments
Article Source: Bleacher Report - New York Yankees
One of the few question marks for the Yankees entering the 2010 season is who will fill the fifth starter's role.
While the obvious choice would be Joba Chamberlain because of how the organization has babied the right-hander in preparation for what should be his coming-out party this year, manager Joe Girardi has decided to extend the saga by announcing that five hurlers have a shot at the job.
Three of the less likely candidates took to the hill in New York's spring training opener on Wednesday at George M. Steinbrenner Field in Tampa, and each of them impressed with a pair of scoreless innings apiece.
Chad Gaudin (6-10, 4.64 ERA in '09) pitched the first two innings and was the only one of the trio to surrender a baserunner, as he allowed Pittsburgh's leadoff hitter Andrew McCutchen to reach on an infield single to second base.
Two pitches later, Gaudin allowed McCutchen to take second when the starter threw wildly over to first on a pickoff attempt.
After that, however, he settled down and retired six batters in a row, including a strikeout of former Mets prospect Lastings Milledge.
The next two innings belonged to Sergio Mitre (3-3, 6.79), who pitched the best of the three. He set down all six batters he faced, inducing four ground balls with an excellent sinker.
Alfredo Aceves (10-1, 3.54) pitched the fifth and sixth frames with equal perfection. He was hit hard by the first two batters he faced (Ryan Church, Milledge), only to be bailed out by a pair of outstanding plays by right fielder Jamie Hoffmann and left fielder Brett Gardner.
All three hurlers pitched well (none of them gave up a walk), but if I had to grade each of them, I'd give Mitre an A+, Gaudin an A-, and Aceves a B.
The two front-runners for the No. 5 starter's spot (Chamberlain, Phil Hughes) head to the hill on Friday against Tampa Bay.
Here are some other notes from the Yankees' 6-3 walk-off win over the Pirates:
•The Yankees' offense was dormant over the first four innings, not only failing to get a hit, but also failing to get a ball out of the infield. Alex Rodriguez finally ended the drought with a hard single to center to lead off the fifth.
•Ramiro Pena got the Bombers on the board with a solo shot to right in the sixth, and Nick Johnson returned to the Yanks in style with an RBI double in his first at-bat later in the frame. He also made a nice pick of a ball in the dirt after replacing Mark Teixeira at first base.
•Curtis Granderson struggled in his debut in pinstripes, grounding out against lefty starter Paul Maholm in the first and then doing the same versus righty D.J. Carrasco in the fourth. The center fielder, who hit just .183 against southpaws last year, finished the day 0-for-2.
•A more svelte-looking Jonathan Albaladejo got rocked in his first outing, surrendering three runs (two earned) on two hits without recording an out in the seventh. There's a logjam in the Yankees' bullpen, and Albaladejo didn't help his cause with that performance.
•Left fielder Colin Curtis gave the Yanks the win with a walk-off, three-run homer in the ninth. He hit .235 with six homers and 29 RBI in 70 games for Triple-A Scranton/Wilkes-Barre last year.
•C.C. Sabathia will start Thursday's game against Roy Halladay and the Phillies.
Follow me on Twitter at JordanHarrison.
Jordan Schwartz is one of Bleacher Report's New York Yankees and College Basketball Featured Columnists. His book Memoirs of the Unaccomplished Man is available at amazon.com, barnesandnoble.com, and authorhouse.com.
Jordan can be reached at jordanschwartz2003@yahoo.com
Read more New York Yankees news on BleacherReport.com