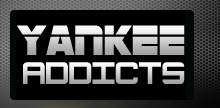 September 13, 2010 · Bronx Baseball Daily · Jump to comments
Article Source: Bleacher Report - New York Yankees
Via River Ave Blues:
Nick Swisher will undergo an MRI on his still injured left knee tomorrow. It's been giving him trouble since he fouled a ball off it in Toronto at the end of August, and it's clearly not just a minor pain based on how he's been limping around for the last two weeks or so. Swish had some tests performed not long after he suffered the injury that showed no fractures or structural damage, and apparently he was told he couldn't make it worst by playing with it. Considering where the Yankees sit with regards to a playoff spot, it only makes sense to get it checked out again and have him rest up before the games really start to count.
Mike Axisa couldn't have really said it better. Swisher was told he was fine and that he couldn't make it worse so he played. But now things aren't getting better and he's been getting frustrated. It's a good idea to get another MRI and probably shut things down for at least a few days.
That's two outfielders, the other being Brett Gardner, that the Yankees will be without for at least a few days. Things aren't going to go great without them, but it's important to think long-term in this situation. They are big pieces of the Yankees offense and they need them healthy and as close to 100 percent as possible in the playoffs.
If that means settling for a Wild-Card, then so be it.
Related Stories
Read more New York Yankees news on BleacherReport.com