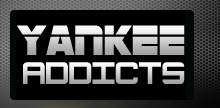 April 20, 2010 · Bronx Baseball Daily · Jump to comments
Article Source: Bleacher Report - New York Yankees
The Yankees are back in action as they start off a West Coast road trip tonight. That means late games. It also means that Javier Vazquez is back in action. Luckily for him he is on the road so he will get a chance to get away from the fans whose expectations have gone through the roof. Apparently, he tweaked his mechanics this week, so we'll see how that works out for him.
Here are some other notes:
There is a rumor going around that another unidentified baseball player has failed a PED test and a suspension is supposed to be forthcoming. We really don't know much about it except Craig Calcaterra of NBC Sports is reporting that it is not a New York player. So rest easy A-Rod fans.
The Angels are always tough and the Mariners were this year's fashion pick, but the Oakland Athletics are certainly not push-overs thanks to their young starting staff. Our former writer Matt Imbrogno had a good write up about them over at TYU, check it out.
And finally, Forbes magazine came out with their sports rankings recently. The Yankees brought in a whopping $441 million in revenue AFTER revenue sharing. That's just about $300 million more than the last place Marlins brought in AFTER they took the Yankees money. Joe Posnanski wrote a great piece analyzing the difference between the Yankees and the rest of the league.
Thoughts:
I don't know about you, but I'm already tired of hearing about steroids in baseball and this story has practically lost my interest and we don't even know who it is yet. I'm glad it's not a Yankee though.
The Athletic pitchers have been pitching great so far, but they haven't faced anything like this Yankees lineup. Let's see how hot they are in a few days.
It's incredible that after paying about $100 million to the rest of the league the Yankees still managed to pull in $441 million. Posnanski's piece is a great read. You should definitely check it out. It might even dispel a few myths, like believe it or not the Royals do try to compete each year, but when your revenue stream is just under $300 million less than the Yankees even after the Yanks have given out some of their money to make it even, it makes it hard to keep up. The Yankees payroll is also in line with the rest of the league according to the percentage of their revenue spent on it.
Update: Major League Baseball announced today that Reds right handed pitcher Edinson Volquez has been suspended for 50 games for testing positive for a performance-enhancing substance. Volquez is on the DL recovering from Tommy John surgery he had last August. So this is really a slap on the wrist.
Related Stories
Read more New York Yankees news on BleacherReport.com