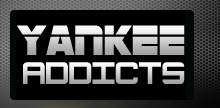 April 10, 2010 · Bronx Baseball Daily · Jump to comments
Article Source: Bleacher Report - New York Yankees
Well last night's game was a debacle, but the Yankees have their ace, CC Sabathia (0-0, 8.44 ERA), out there today trying to right the ship against rookie RHP Wade Davis (0-0, no ERA) and the Tampa Bay Rays.
Sabathia was strong in his last start until he fell apart in the sixth inning giving up three runs on two hits and a walk before he was pulled. The Yankees are hoping that his stamina improves today. Here are some Yankee notes:
Javier Vazquez
Javier Vazquez started his second time around with the Yankees the way he finished his first, by getting lit up. Here is his line from last night: 5.2IP, 8H, 8ER, 3BB, 5K, 2HR.
Manager Joe Girardi and Vazquez both blamed the pitchers inability to locate his pitches as the reason for the bad night.
He was pitching well early in the game, but the homer to Carlos Pena in the fourth inning was definitely the turning point. Quote: "He made some mistakes with his fastball," Girardi said . "he got that one out over the plate to Pena, and that seemed to change him."
Marcus Thames
Marcus Thames got the start in left last night as the left-handed pitcher David Price was on the mound. He went 1-for-3, the hit was a single.
He wasn't overly impressive at the plate, but he wasn't bad, either. Unfortunately, he was not good in the field at all. There were at least two fly balls to left that Brett Gardner could have turned into outs. One of such fly balls Thames decided to dive for and missed. It was a valiant effort, but one that ultimately led to extra bases.
After the game, Girardi said that he would not use Thames in a strict platoon with Gardner. The idea is that in stadiums with big outfields Gardner will be used even against tough lefties to take advantage of his speed.
Alan Horne
We last heard from Alan Horne at the end of March when we heard that he had a rotator cuff tear that would require surgery and end his season.
Now we are hearing that he is not going forward with surgery and instead will instead undergo Platelet-Rich Plasma treatments, a procedure designed to speed up recovery time.
The idea is that this will allow him to rehab the shoulder instead of undergoing surgery which would allow him a shot at playing this season.
Read this Mike Ashmore article to get the full story.
Related Stories
Read more New York Yankees news on BleacherReport.com