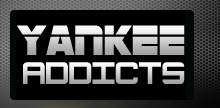 October 15, 2010 · Bronx Baseball Daily · Jump to comments
Article Source: Bleacher Report - New York Yankees
CC Sabathia takes the mound against C.J. Wilson in Game 1 of the ALCS, and we'll have recaps tonight.
Here are some notes:
Against the lefty, the Yankees are still going with Curtis Granderson and Brett Gardner. Marcus Thames is also in the lineup tonight at DH.
The Rangers have geared up for the Yankees lefties by carrying two extra lefty relievers than they did in the ALDS, Michael Kirkman and Clay Rapada.
Sabathia said he could go on short rest in Game 4 if he had to.
A lot has been made about the rosin on Cliff Lee's hat. It's almost definitely nothing, and the Yankees aren't expected to make a big deal about it.
The other day I mentioned this and I just wanted to follow up on it. Minor league OF Slade Heathcott had labrum shoulder surgery last week. It was a pre- existing injury that he had tried to play through. He'll likely be ready to go for next season, but that isn't guaranteed.
That's all for now. Pretty straightforward stuff. Like I said up top, I have some pitcher previews coming up before the game tonight ,and I have another Talking Rangers that will be posted soon. Stay tuned…
Related Stories
Read more New York Yankees news on BleacherReport.com