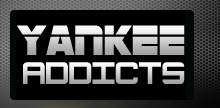 April 29, 2009 · Perry Arnold · Jump to comments
Article Source: Bleacher Report - New York Yankees
Over the past four years, New York Yankees fans have seen several distinct Melky Cabreras.
There was the one we witnessed when he first arrived in 2005. Back then, it looked like the Melky Era was dawning in New York.
Of course, expectations proved to be too high. He played only a few games and was obviously over his head at that point, being only 20 years old.
But he returned to start the 2006 season and provided excellent defense and a spirit that had been missing from the largely business-like Yankees.
Fans will remember Cabrera banging into the wall in left center field and bouncing off to land on his belly in the grass, all the while keeping the ball securely in his glove and thereby robbing Manny Ramirez of an extra-base hit.
He finished '06 hitting .280, and things looked pretty good for the Yankees. After all, he was just 22 at the end of that year.
Then, he played in 150 games in 2007 and hit .273 with 73 RBI. But, considering the defense he played, Yankees fans would probably have settled for that Cabrera.
But then there was the disappointing 2008. After starting red-hot in April, Cabrera seemed to get full of himself, full of foolishness, or full of something.
He was a flop at the plate for most of last year and just seemed distracted. One image that will forever stay in many fans' minds is Cabrera in center field, and a ball bounding toward him in the first inning.
Cabrera took his eye off the ball to acknowledge the "roll call" of the Bleacher Creatures, the ball eluded him, and the runner took second base.
Cabrera embarrassed himself in 2008 and he embarrassed his team. He was demoted to the minor leagues, and Brett Gardner was promoted to take his place in center field.
Rumors abounded in the offseason that the Yankees were intent on trading the now 24-year-old. The most likely deal seemed to be one that would send him to the Milwaukee Brewers to bring Mike Cameron in to play center in the Bronx.
But it was never consummated, and the Yankees entered Spring Training declaring that there was an open competition between Cabrera and Gardner for the starting spot in the hallowed middle outfield position in the New Yankee Stadium.
Gardner won the spot out of camp with a very good spring, but Cabrera had played very well in Florida as well. Brian Cashman and Joe Girardi announced that Gardner would start but that the team needed Cabrera as well.
Since the start of the season, Gardner has played exceptional defense and has shown a better arm than his critics would have expected, but he has been horrendous at the plate. After 18 games, Gardner was hitting just .220 and had 15 strikeouts.
When the Yankees entered the Motor City Monday night to take on the Tigers, Girardi wrote Cabrera's name down to start in center. He was back in the lineup last night as well while Gardner rode the pine.
Cabrera got one hit Monday night and two more last night to raise his season average to .325. He also has hit four home runs and driven in eight in just 40 AB.
It is not likely that Cabrera would hit .325 for the whole season, or hit 40 homers, or drive in 100 runs, but his current pace could result in numbers like that if he got 500 AB in '09.
But the Yankees don't need that from Cabrera. What they need is a player who can prove that he is mature enough for "center" stage in the biggest theater in baseball. If he can hit .280 and drive in 80 runs, pinstripe-clad fans should be happy.
If he can be more patient at the plate and maintain his concentration in the field and on the basepaths, he will be a real asset for this team.
No one knows at this point what Girardi will do long-term about his center fielders.
No one knows at this point whether the Melky Cabrera Yankees fans remember from 2006 and the player they have seen in him so far in 2009 will continue to perform at an acceptable level.
If the Yankees get the right Melky Cabrera, it will be a considerable upgrade over the "wrong" Brett Gardner they have had so far this season.