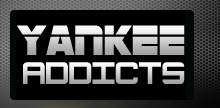 June 16, 2009 · Jordan Schwartz · Jump to comments
Article Source: Bleacher Report - New York Yankees
Who needs home runs?
The Yankees failed to go yard at home for the first time since May 6 but played nearly flawless small ball to beat the Washington Nationals, 5-3, on Tuesday.
New York was 3-for-4 in moving runners over to third with less than two outs and a perfect 3-for-3 in scoring those runners.
With two on and nobody out in the second, Hideki Matsui did his job by grounding out to first to advance the runners. Robinson Cano, who had four hits in the game, then scored on a sac fly by Melky Cabrera.
In the next inning, Johnny Damon led off by reaching second on an error. He was then advanced to third by Mark Teixeira's grounder to the right side and scored on Cano's infield single.
Finally, in the eighth, the Yanks added an insurance run when Brett Gardner, pinch running for Matsui who drew a leadoff walk, stole second, was moved to third by Nick Swisher's grounder and scored on Ramiro Pena's base hit.
That's fundamental baseball, something the Yankees need to do if they want to beat the Red Sox this year.
Here are the grades from CC Sabathia's victory over the Nats.
Joe Girardi, Manager: (A) Girardi just sat back and watched his guys play solid small ball in this one. He lifted Sabathia in the eighth for the second straight start but had a more reliable reliever to hand the ball to in Brian Bruney, who got the job done.
And the manager made a nice, albeit predictable move, in pinch running Gardner for Matsui in the eighth and having him steal second, which led to an insurance run.
Derek Jeter, SS: (D+) The Captain was 0-3 with a walk before leaving the game with what was described as left ankle stiffness. Hopefully he'll be okay. Meanwhile, Jeter has now reached base in a record 51 consecutive interleague games.
Johnny Damon, LF: (C-) Damon was 1-for-5 with two runs scored.
Mark Teixeira, 1B: (B+) Teixeira's RBI double to deep left center tied the game in the seventh. He then scored the eventual winning run on Cano's extra-base hit.
Alex Rodriguez, 3B: (D) A-Rod had the only blemish on the Yankees' near perfect small ball night. He struck out with a runner on second and no one out in the seventh, en route to an 0-for-3 night that dropped his average to .224. His presence in the lineup is still helping Teixeira, though.
Robinson Cano, 2B: (A+) Cano had one of his best nights as a professional, going 4-for-4 with a run scored and two RBIs. He even made a couple nice defensive plays.
A lot of people don't like it when Cano swings at the first pitch, but after singling on each of the first three pitches he saw Tuesday, Robbie is now hitting .467 on the first pitch this season. I say let him keep doing it.
Jorge Posada, C: (A) Posada was 1-3 with a walk and handled Sabathia pretty well. There's been a lot of talk recently about how Yankee starters pitch better with someone other than Posada behind the plate, and it's true, opposing batters are hitting .270 off New York starters with Jorge catching, while just .252 with Jose Molina, Francisco Cervelli or Kevin Cash behind the dish.
But if you take out Wang's four starts with Posada as a battery mate, those numbers are both around .247. Still, it seems like pitchers seem to get along better with the laid back alternatives to the controlling Posada.
Hideki Matsui, DH: (D+) Godzilla was 0-for-3, all with runners in scoring position, but he walked in the eighth, which led to the Yanks' fifth run.
Nick Swisher, RF: (D+) Swisher was 0-for-3 with a base on balls and made a nice running catch in right center.
Melky Cabrera, CF-RF: (B) Cabrera was 0-for-2 with a walk and an RBI to go along with an outstanding diving catch on a ball off the bat of Elijah Dukes.
Ramiro Pena, SS: (B) Pena replaced the injured Jeter and promptly singled home the fifth run in the eighth. He's now 4-for-6 in getting that runner home from third with less than two outs. Pena also made a nice spinning throw to first to end the game.
Brett Gardner, PR-CF: (C+) Pinch running for Matsui in the eighth, Gardner stole his 12th bag of the year and scored a run.
CC Sabathia, SP: (B+) If it wasn't for Anderson Hernandez, this would've been an A+ effort. The ninth place hitter doubled and hit a three-run homer, his first since Sept. 2006, off of Sabathia, who went 7.2 innings, allowing just those three runs on six hits and a walk, to go along with two strikeouts, for his sixth win of the year.
Brian Bruney, RP: (B) All of those Joba-to-the-pen maniacs were salivating when Bruney entered with two outs in the eighth. But fresh off the DL, Bruney retired Ryan Zimmerman with a man on to end the inning. If Bruney can stay healthy, the Yanks have now added a major weapon to their beleaguered bullpen.
Mariano Rivera, RP: (A) Retired three batters before giving up two runs.
Yankees Overall Grade: (A-) That was a little scarier than Yankee fans wanted it to be, but it was a good enough start by Sabathia and the lineup came up with some solid situational hitting to sneak past the Nationals in the opener of this three-game series. Chien-Ming Wang takes the hill on Wednesday, to pitch for his life as a starter.
Jordan Schwartz is Bleacher Report's New York Yankees Community Leader. His book "Memoirs of the Unaccomplished Man" is available at amazon.com, barnesandnoble.com, and authorhouse.com.