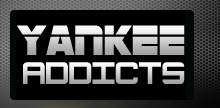 June 17, 2009 · Jordan Schwartz · Jump to comments
Article Source: Bleacher Report - New York Yankees
They just didn't have another one in them.
A day after the Yankees completed their 22nd come-from-behind victory, the Bombers stranded the tying run at third in the ninth to fall 3-2 to the Washington Nationals.
Robinson Cano, who tied a career-high with four hits on Tuesday, stepped to the plate with the game on the line Wednesday. All he needed to do was hit a lazy fly ball to the outfield to score the speedy Bret Gardner to tie the game. But on the ninth pitch of the at bat, he bounced into a 6-4-3 double play to end the contest.
It was that type of night for New York, which was frustrated for 8.1 innings by Long Island-native John Lannan. The Nats starter didn't allow a hit until Cano's homer in the fifth. Still, not even that could rattle the 24-year-old, who gave up just three more hits before exiting with one out in the ninth.
Meanwhile, Chien-Ming Wang made his best start of the year, surrendering three runs on six hits and two walks, while striking out four over five innings.
He was done in by a bad call at first and a questionable dive in center by Melky Cabrera in the fifth, but the new father pitched well enough to earn another start next week at Atlanta.
The bad news? He'll have to bat.
Here are the grades from the Yanks loss to the Nats.
Joe Girardi, Manager: (A) I rarely give out a grade this good in a loss, but I was thoroughly impressed by Girardi's guts in the ninth. Down one with one out, the manager pinch ran Gardner for Mark Teixeira after he reached with a single to left.
Girardi then had Gardner steal not only second, but also third to get in position to score the tying run with an out.
Girardi also did a good job with his bullpen. I questioned when he took out Phil Hughes for Phil Coke and then when he swapped Coke for Alfredo Aceves, but each move worked out as the pen turned in four scoreless innings.
Johnny Damon, LF: (A+) Damon was 2-4 with a double and a solo homer in the ninth to draw the Yanks within one. He was the only batter who could figure out Lannan.
Nick Swisher, RF: (F) Replacing the banged up Derek Jeter in the 2 hole, Swisher was 0-4 with a strikeout to drop his average from .333 to .273 when batting in that spot in the order.
Mark Teixeira, 1B: (A) Tex went 1-3 with a walk and made an absolutely outstanding stop on a hard hit ball to him at first base.
Alex Rodriguez, 3B: (D+) A-Rod barely drew a walk in the ninth to salvage an 0-3 night that dropped his average to .219. He's now three for his last 30. Yikes.
Robinson Cano, 2B: (B-) Cano hit his 12th homer of the year to break up the no-hitter in the fifth, but he couldn't get a simple sac fly to tie the game in the ninth.
Jorge Posada, C: (D) Posada was 0-3 but did a decent job encouraging Wang through five innings.
Hideki Matsui, DH: (F) Godzilla is now 0-6 since his big weekend against the Mets.
Melky Cabrera, CF: (F) Cabrera not only went 0-3 with a strikeout, he also may have cost the Yanks the game when he dove for a ball off the bat of Nick Johnson in the fifth.
If he just played the ball on a hop, Wang might've gotten out of the inning down 2-0, but when the ball got by Cabrera for a triple, Carlos Guzman was able to score all the way from first to make it 3-0.
Ramiro Pena, SS: (D-) Filling in for Jeter at short, Pena went 0-3 with a K and then dropped the tag when Willie Harris stole second. He made up for it though, with a great leaping grab on a line drive that followed.
Brett Gardner, PR: (B+) Gardner pinch ran for Teixeira in the ninth and stole both second and third but was stranded there by Cano.
Chien-Ming Wang, SP: (C-) Wang dropped to 0-5, but he induced 10 ground balls as opposed to just two fly balls. So that's a good sign for the sinkerballer.
Phil Hughes, RP: (A) Wang's personal long reliever was impressive out of the pen as he gave up just one hit and struck out two over two scoreless frames.
Phil Coke, RP: (A) Coke had his sixth straight scoreless outing, going 1.1 innings and striking out three while allowing just one base runner.
Alfredo Aceves, RP: (A) This guy has some pretty impressive numbers: a 1.10 WHIP and nearly a strikeout an inning. With Bruney, Rivera and these three guys, the Yanks bullpen is actually looking pretty good.
Yankees Overall Grade: (C-) The Yanks continue to make these young starters that they haven't seen before look good.
I don't know if it's a problem with advanced scouting or what, but the bats better bounce back Thursday afternoon because losing one game to the worst team in baseball is one thing while losing a series to them is another.
Jordan Schwartz is Bleacher Report's New York Yankees Community Leader. His book "Memoirs of the Unaccomplished Man" is available at amazon.com, barnesandnoble.com, and authorhouse.com.