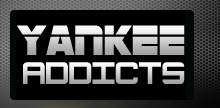 June 17, 2009 · Perry Arnold · Jump to comments
Article Source: Bleacher Report - New York Yankees
Robinson Cano hit the first three pitches he saw on the nose in the Yankees game against the Washington Nationals Tuesday night.
In the first inning, he slapped an outside pitch on a line over the shortstop's head for a clean single.
The next time up, Cano almost killed Nationals' first baseman Nick Johnson with a blistering line drive that Johnson barely saw.
His third time up, Cano hit the first pitch back through the box for a sharp single to center.
Three pitches and Cano had three hits in a game for the eighth time this season. And he had sprayed the hits to every part of the field.
Cano would add to his hit total later in the game, driving a double over the center fielder's head for his fourth hit.
Cano got a little greedy and was thrown out at third trying to stretch his fourth hit of the night into a triple, but he had driven in Mark Teixeira with this hit.
Cano also sparkled in the field, making a couple of plays look too easy. Both of the plays were on scorching grounders up the middle, with Cano ranging far to his right to backhand the balls and then spinning to throw the hitters out.
On one of the throws, Teixeira made a good pick up to save Cano an error. But there are not a lot of second baseman in the major leagues who could have made these two plays as effortlessly as Cano.
When Cano comes to the park ready to play, he is as skilled with the bat and in his work around second base as anyone seen in a long time.
With very strong hands, he can spray hits to all parts of the field. And the same hands are so soft as to make his play in the field look too easy.
Cano has shown the talent to be an All-Star for many years to come, if he can simply have the persistence in his game to bring everything he has every game.