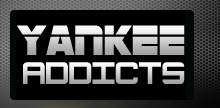 December 6, 2012 · Christopher Connors · Jump to comments
Article Source: Bleacher Report - New York Yankees
As the dust begins to settle from the MLB winter meetings and it appears the Yankees may come out without any big-name signings, the questions worth asking are: Do you as a Yankee fan really care? Are you upset with players that have left and have not yet been replaced?
Well, maybe it's time to start creating a list of those who have gone and those who have not (yet) been signed and whether we should care.
– I could care less about Russell Martin not being back. Apparently, the Yankees felt the same way.
– I could care less about Eric Chavez not being back. Apparently, the Yankees felt the same way.
– I could care less about the Yankees not signing Jeff Keppinger, Nate Schierholtz or any other middling outfielder or infielder. Apparently, the Yankees didn't care enough to give those guys credible money.
Because they're not worth it.
I could go on.
Losing Nick Swisher will absolutely, repeat, absolutely affect this team next season. Swish-a-Lish is an above-average hitter that got on base at a very solid clip and hit 24 homers in 2012. Yes, he was an abysmal failure in the postseason (which is why some won't miss him) but he definitely was one of the team's best hitters at times throughout most of his years here.
But it makes no sense to give him what he's looking for in a contract.
What we're seeing now (I will argue vehemently NOW for the very first time since the great Yankees runs started in the mid-1990s) is the result of years and years of lavish spending. Some would say that by virtue of the Yankees missing the playoffs in 2008, that was the first time that we truly saw the result of guys getting old.
That's just not true. It's right now.
It's a 37-year-old, aging, former steroid-taking behemoth of the game whose body is completely falling apart. The same Alex Rodriguez that was inexplicably given nearly $30 million per year in 2007, for 10 years, at the age of 32.
It's taking long-term gambles on players like Mark Teixeira (which every team does but the Yankees seemed to start doing before everyone) who are undoubtedly not going to live up to the terms of their contract during the latter half of their signed years.
For years and years now, after every postseason failure and during every winter, we've been deluged with articles by those in the media saying that the Yankees are getting old. Well that's obvious. People do in fact age and the Yankees do have several players that are in their 30s.
Some in their 40s.
So it doesn't take a Ph.D from Stanford to realize that. But the ageist swipe is meant derisively, suggesting that the Yankees won't be able to hang anymore with the younger, supposedly hungrier teams.
Oh, really?
Is that why the Bombers had the best record in the American League again this past season and made it to the ALCS? Is that why they've been counted out by many Yankee-hating pundits every year for the last 10 years, in the belief that they're "getting older?"
Instead, the Yankees have challenged for the World Series every year but one over that time. You have to laugh every time you read one of those stories, often fueled by the emotion of those writers who are dying to see the big, bad Yankees fail and their smaller market team finally make it over the hump.
The only aging player truly holding them back at this point is A-Rod.
Nagging injuries, bizarre hip problems.
The Yankees' problem right now is not age, with the exception of just one player. Seriously, when's the last time anyone complained about the performance of a healthy Derek Jeter, Andy Pettitte or Mariano Rivera?
The Yankees' problem is the insane amount of money they've laid out over the years. And now, their suddenly miserly owner is pinching pennies so he doesn't get heavily taxed one year from now by MLB, whose luxury tax threatens to take tens of millions of dollars away from his billion dollar fortune.
Oh yeah, one more thing: What we're also seeing now for the first time in my lifetime and many fans' lifetimes, is an ownership unwilling to keep throwing money at a problem. So ostensibly, it would appear they've learned their lesson.
However, they're being fiscally responsible not out of virtue but out of greed, aiming to prevent revenue from being taxed.
To pretend that one year (or even successive years) of "tax" outlays is going to rip into profits is ludicrous. As the New York Mets have shown, it is all about the product on the field. If you don't have a winning product, you can watch your three-million and four-million person attendance figures evaporate.
Outcomes are a result of many, many decisions. Certainly this current situation is long in the making. But it could have and should have been attended to all along the way. The fact that the Yankees have no bona fide starting pitchers or hitters at Triple-A is astounding.
Remarkable.
The Yankee coffers have long been filled with excess unspent dollars. The press, MLB and the fans are so uni-focused on the major league payroll that they fail to see that player development, top-notch scouts and a broad-based planning system are more important to a team's success than gambling in the free-agent market.
Where is Stick Michael when you need him?
It really seems that the Yankees actually under-spend on the minor leagues. Just what the big-market teams accuse the smaller teams of doing—getting the revenue-sharing money and putting it in their pockets.
The Yankees accumulate their enormous sums and, right now, as well as for many years, have been pocketing it. Perhaps that's why the team's farm system hasn't exactly produced a Mike Trout or Madison Bumgarner lately.
You can think about that next time you're wondering why so many players on the roster are not farm-raised. And this is hardly a nascent problem. It's been going on for years. So don't let the pundits and professional writers envious of the Yankees' success fool you. It isn't age. It's mismanagement.
And now, for the first time, it looks like the Yankees will pay for it on the field next season with what will likely be as inferior of a lineup as fans have seen in years.
Read more New York Yankees news on BleacherReport.com