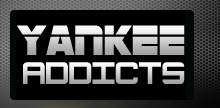 News published by
September 19, 2013
You wouldn't know it due to all the well-deserved adulation directed toward Mariano Rivera these days, but one of the New York Yankees' all-time greatest pitchers is possibly just a ...
August 21, 2013
Ninety or 91 games very likely gets the final Wild Card spot in the American League. Some have been saying for a few weeks that the Yankees will need to ...
August 2, 2013
The New York Yankees didn't make a splash at the trade deadline, but it's likely they added a player to their lineup who puts them in better position to reach the ...
July 30, 2013
Over the last several years, we've seen an emboldened Brian Cashman: A man who is more than happy to let the media know about the operational decisions he makes and those ...
July 25, 2013
Watching the Yankees offense of late, it seems impossible to believe this team is contending for a playoff spot in October. The Bombers' mighty offensive struggles have been well documented ...
July 19, 2013
The Yankees are northbound for their first series at Fenway Park this season against first-place Boston with a lot on the line. Three games in mid-July won't hardly decide a ...
July 18, 2013
Somehow—through 95 games played—the New York Yankees, with all of their troubles, are only three games behind in the chase for one of two AL Wild Card spots. It might ...
July 4, 2013
Ups and downs, slumps and streaks, unfathomably poor hitting and solid pitching has kept them in the thick of a playoff spot. While it's hard to sum up 84 games ...
July 3, 2013
In just a few short months, the New York Yankees will say goodbye to franchise icon Mariano Rivera, one of their greatest players—baseball's greatest players—and one of the game's all-time ...
July 2, 2013
The New York Yankees won Tuesday night. These days, one win—even against a lousy Minnesota Twins team—is cause for celebration in Yankees Universe.But in a lot of respects, Tuesday night's ...