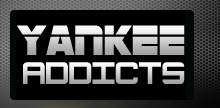 February 25, 2010 · Bronx Baseball Daily · Jump to comments
Article Source: Bleacher Report - New York Yankees
There have been a few rumors about international free agents lately and the Yankees are involved in three of them: Dominican righty Rafael DePaula and a pair of Cuban first basemen Leslie Anderson , who can also play all three outfield positions, and Jose Julio Ruiz .
Here are scouting reports and the most recent rumors on the trio:
Quick scouting report on DePaula :
The 17-year-old righty wields a low 90s fastball and a repertoire of breaking pitches that have shown impressive potential. With further maturation and development, many scouts believe that DePaula will become a fire-balling ace, capable of launching mid-to-high 90s fastballs and spinning razor sharp sliders past opposing batters.
What MLBTradeRumors is saying about DePaula :
ESPN's Jorge Arangure tweets that 17-year-old Dominican righty Rafael DePaula is currently mulling over an offer from the Mariners. DePaula hit the market last month after serving a one-year suspension because he apparently lied about his age. The Yankees and Red Sox are also interested in the righthander.
Quick scouting report on Jose Julio Ruiz :
Cubano offers some comparable statistics that pit Ruiz against some of the more prominent sluggers in Cuban Baseball. The one that caught my eye was Angels first baseman, Kendry Morales .
During Kendry's three seasons in Cuba, his homerun frequency was 23.5, meaning he hit a homerun every 23 to 24 at-bats. When you compare that to what Jose Julio Ruiz did in five seasons (40 AB/HR), I can infer that Morales has more power than Ruiz. In fact, in 2009, Morales hit a homerun once in every 20.5 at-bats for the Halos. Ruiz, at 26-years-old, is coming into Major League Baseball a more polished player than his countryman, but he doesn't seem to have the same penchant for hitting the long ball.
What MLBTradeRumors is saying about Ruiz :
Jesus Gallo, trainer for Ruiz, tells Rangel at the Nuevo Herald that Ruiz has received bids from six major league teams and "concrete proposals" from at least three. All of the offers exceeded $1 million, but none have been sufficient to ink the 25-year-old first baseman. Last Thursday, ESPN.com's Jorge Arangure, Jr . wrote that some teams view Ruiz as being ready to join major league rosters immediately.
Gallo labels the Cuban defector's most recent try-out on Monday against members of the Blue Jays, "his last before signing." He says Ruiz will make a decision between Wednesday and Thursday of this week.
Nothing about the Yankees in this case, but on Feb. 14 they wrote that Ruiz expected an offer from the Yankees, among other teams.
Quick scouting report on Leslie Anderson :
Leslie Anderson is a player you should be keeping tabs on. While not as highly touted as Jose Julio Ruiz (Cubano has Anderson ranked fifth, two spots below Ruiz ), he is a very versatile player. Listed at 6'1" and just over 200 pounds, this 28-year-old is left-handed and was in the prime of his career when he left Cuba.
During the 2008-2009 season, he hit .381 (.379 v. LHP and .382 v. RHP) with a .490 OBP and .572 SLG. Cubano points out that while Anderson is a Gold Glove caliber first baseman, he has the skills to play anywhere in the outfield, including centerfield.
This type of versatility, along with his penchant to work the count and take a lot of pitches, will make him a nice late addition for a big league club. Because of his age, Anderson won't sign with a club that's not interested in using him on the big league roster. Cubano told me that, like Alexei Ramirez was with the White Sox, he's ready to contribute right away, but needs a team to give him the same opportunity Ramirez got in 2008.
What MLBTradeRumors is saying about Anderson :
Cuban first baseman/outfielder Leslie Anderson tells Angel Mazariego of the Mexican newspaper Sipse that he is willing to play in Mexico this season if nothing materializes for him in the majors. Anderson lists the Red Sox, Yankees, Mariners, Dodgers, Giants , and Brewers as the teams he knows to have scouted him recently. Mazariego adds the Dodgers and Tigers to the list.
Thoughts: As first basemen and players who are expecting playing time almost immediately, I don't think the Yankees need to have either Anderson or Ruiz right now, but hopefully the Yankees make a significant push for the right handed pitcher DePaula.
The Yankees could be highly motivated to sign him to as he could help replenish their farm system after they lost one of their top pitching prospects, Arodys Vizcaino, in a deal for Javier Vazquez this offseason. Although at age 17, he would still be at least four years away from even getting close to the Bronx. At this point, it seems like there are other teams seriously interested, specifically the Mariners who are said to have a substantial offer already out to the pitcher.
Read more New York Yankees news on BleacherReport.com