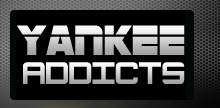 January 13, 2013 · Kate Conroy · Jump to comments
Article Source: Bleacher Report - New York Yankees
There was a time not so long ago when the MLB hot stove headlines were, some would say, greedily hogged by the New York Yankees (aka. the Bronx Bombers) with news of the team's latest, big-name free-agent acquisition.
Well my friend, those days are long gone, as it is safe to say that I am not very confident about heading into this 2013 season.
And any fan who disagrees with me, should either be considered delusional, or can call me crazy come October when the Yankees make the postseason.
Now, where do I start?
The justification behind my uncertainties are countless, as I could go on forever.
So instead here are three of the most obvious and undeniable reasons all of Yankee Universe should start to lower their expectations….pronto.