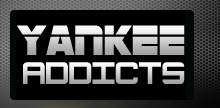 News published by
February 13, 2013
Baseball is back, as pitchers and catchers are officially reporting to their team's respective spring training facility in either Arizona or Florida.The New York Yankees spring home is in Tampa, Florida, and the ...
January 31, 2013
Back in 2009, I was among the minority of New York Yankees fans who still liked Alex Rodriguez after he admitted to having used PEDs (performance enhancing drugs) between 2001-2003. ...
January 26, 2013
The New York Yankees off-season has been a quiet one due to ownership implementing a new frugal stance. Instead of story-lines about signing the biggest free agents, Yankee fans were ...
January 13, 2013
There was a time not so long ago when the MLB hot stove headlines were, some would say, greedily hogged by the New York Yankees (aka. the Bronx Bombers) with ...
January 4, 2013
Let me start by declaring that I have been a HUGE fan of linebacker Ray Lewis since the Baltimore Ravens beat my New York Giants in the Super Bowl back ...
December 8, 2012
The New York Yankees hot stove has felt more like an icebox this offseason, and all Yankee fans want to know why.This winter has been full of mixed messages, causing a ...
November 13, 2012
 What will the New York Yankees outfield look like next season? For starters, CF Curtis Granderson and LF Brett Gardner will be back. The Yankees picked up Grandy's 2013 option, and ...
September 19, 2012
The 2012 MLB season is as exciting as ever, but thanks to the media to divert the attention, while at the same time putting Yankee Universe into a tizzy, about ...
September 4, 2012
Following another New York Yankees one-run loss yesterday, this time to the Tampa Bay Rays, captain Derek Jeter described the state of the team: "Before the games, we're not panicking. We're playing ...
August 19, 2012
Wow! What an exciting time for baseball, as these last 6 weeks will be about as competitive as ever.The New York Yankees are back on the top again this week because despite all ...