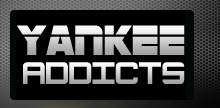 January 4, 2013 · Kate Conroy · Jump to comments
Article Source: Bleacher Report - New York Yankees
Let me start by declaring that I have been a HUGE fan of linebacker Ray Lewis since the Baltimore Ravens beat my New York Giants in the Super Bowl back in January 2001.
To give you more of an idea of the adoration I have for this man, after watching the Ravens torch my Giants 34-7, the first thing I did was go on a manhunt to find an autographed picture of Lewis from that Super Bowl. And that would explain the framed, signed picture of Lewis hoisting up his Super Bowl MVP Trophy that still hangs on my wall today.
So you can imagine my panic yesterday when I overheard Ray Lewis on the radio in a taxicab announcing his retirement from the NFL following this season's playoffs. I felt literally crushed.
Obviously, I knew that after 17 seasons in the NFL his clock was ticking, but it still didn't change the fact that one of the most prolific and inspirational athletes of my time career was calling it quits.
Lewis is one of the very few athletes I define as a rarefied air in sports due to his level of passion and authentic love for the game that is absolutely awe-inspiring.
So it was no surprise that following his retirement announcement, there was an immense outpour of overwhelming admiration from athletes and fans everywhere. Still, in my mind there will never be enough ways to fully thank Ray Lewis. In a sense, he took us on this improbable journey and it was truly amazing.
Now, I bet you are wondering how Ray Lewis' retirement relates to Yankees Universe?
Well if you guessed that Hal "Scrooge" Steinbrenner personally sent Yankees GM Brain Cashman to Baltimore to sign Lewis to a one-year deal to play in the Bronx in 2013, you would be wrong.
Like the city of Baltimore, New York City is on the cusp of losing their version of Ray Lewis in the next year or two, as Yankees captain Derek Jeter is not far from hanging up his cleats.
Jeter is not as vocal, nor does he shake it quite like Lewis before every game, but the captain is just as much of a leader.
People always ask me why I respect athletes like Ray Lewis and Derek Jeter so much.
On the field, Lewis brings an attitude to fear in a city nicknamed the Crab Cake Capital of the World, while Jeter conveys a sense of graciousness to the Big Apple's smug reputation.
The accomplishments of both these men on and off the field are endless.
For now, I will be rooting for the Ravens in the playoffs because Ray Lewis deserves to go out like a true champion.
Thank God Jeter has five rings already, cause with Hal Scrooge-Brenner running the team, it will be next to impossible to send the captain to the postseason at all.
Read more New York Yankees news on BleacherReport.com