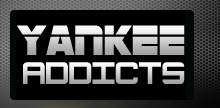 March 19, 2010 · Bronx Baseball Daily · Jump to comments
Article Source: Bleacher Report - New York Yankees
Mark Newman was nailed with a DUI the other day, but unlike former Yankee executive Steve Swindall it appears that Newman's status within the organization is secure. Or at least he's giving interviews and acting as if everything is all right.
For those of you who don't know who Newman is, he's the Senior VP of Baseball Operations for the Yankees and he was recently interviewed by John Sickels of MinorLeagueBall.com. There was quite a lot of great information about the Yankees that we don't usually get from a typical newspaper article.
You should definitely check out the entire article, but here are some bits that you can't miss:
The two biggest problems the Yankees face in player development are that they often draft very low and they are often forced to trade prospects to stay in the pennant race each year.
Because of those problems they try to make up for it in the international free agent market and they take risks in the draft on high-ceiling players.
Speaking of IFA's, Newman revealed the Yankees' strategy. Some teams go for broke and dump big bonuses on the top players and some teams try to sign as many players as they can for less. The Yankees, Newman said, try to do a little of both.
Newman believes Jesus Montero will catch—at least that's what he's saying. He said that his glove and throwing has seen improvements and now the big issue is improving his lower body flexibility. Overall, he likes the progress he's made.
The Yankees haven't deliberately targeted catchers in the draft, but they do place emphasis on catchers, shortstops, and center fielders.
Andrew Brackman is still a starter.
Jeremy Bleich's name is pronounced—Bleish. Newman said his stuff is actually better than the Yankees thought it was. Last year he was throwing in the 92-95 MPH range. He projects as a fourth starter right now and will start the season in Double-A Trenton.
Switch-pitcher Pat Venditte—funny video of him here—will start the season in High-A Tampa, and if he pitches well in 2010, they're looking to advance him "aggressively."
Three right-handed pitchers to watch: Jose Ramirez, Adam Warren, and David Phelps. Hitter to watch: David Adams.
Related Stories
Read more New York Yankees news on BleacherReport.com