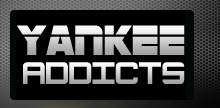 March 4, 2010 · Bronx Baseball Daily · Jump to comments
Article Source: Bleacher Report - New York Yankees
Tim Marchman of Sports Illustrated recently ranked the 30 general managers in baseball and the Yankees GM Brian Cashman ranked pretty high at No. 3 behind Andrew Friedman of the Tampa Rays and Theo Epstein of the Boston Red Sox.
3. Brian Cashman, New York Yankees

Cashman's weakness isn't a small one — the Yankees, the only team in baseball to routinely run $200 million payrolls, have recently been spending about four times as much per win as the Rays. Why, then, does he rank so high? His four world championships don't hurt, but the really impressive thing is that since he secured full control over baseball operations after the 2005 season, the Yankees have spent their money wisely, signing studs like CC Sabathia rather than sure bets for decline, and traded smartly, dealing the fruits of a much-improved farm system for players still in their prime, such as Curtis Granderson.
Thoughts : Brian Cashman has done a great job running the team since he took complete control a couple of years ago. I'd like to argue that he should be higher on the list, but that's purely because he's coming off a World Series victory and everything about the team is looking good right now.
In reality there are probably more reasons he should be lower on this list, like Jaret Wright, Kei Igawa, and the fact that the Yankees farm system seems a little on the light side since making a couple trades this offseason.
Marchman even gives him credit for the Granderson deal, but the Yankees did give up a major league, cost-controlled lefty in Phil Coke and two prospects—Austin Jackson and Ian Kennedy—who could potentially turn into solid major leaguers. It wasn't a bad trade for the Yankees, but I don't think it's one that should land him at the No. 3 spot on this list.
Don't get me wrong though, I like Cashman and I think he has done a great job running this team recently. I'm just trying to keep it real and remember his short comings too. Overall though, the team won the World Series last year and seem to be heading in the right direction in general. I like where he's ranked.
What's your take? Too high? Too low? Just right? What about Epstein, is he really better than Cashman?
Related Stories
Read more New York Yankees news on BleacherReport.com