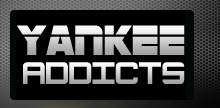 March 21, 2010 · Bronx Baseball Daily · Jump to comments
Article Source: Bleacher Report - New York Yankees
The Yankees made their most significant cuts so far this spring when they sent the organization's top catchers Jesus Montero and Austin Romine to the minor league camp along with outfielders Colin Curtis and Reid Gorecki according to Chad Jennings of The Journal News .
That leaves 46 players remaining in camp, a number that will eventually be whittled down to 25 before the season starts.
Cutting those players was not significant because they had a shot at making it to the Bronx, but because they're some of the biggest names among their prospects. Montero is their top prospect overall and is expected to start the season in triple-A Scranton. Romine will start the season in double-A Trenton.
Curtis and Gorecki are likely to both start the season in triple-A. Curtis will have a real chance to make the Yankees team next year or even this year if things go right for him. He's a prospect in that scouts have said has the tools to play at the major league level, but not as a starter, particularly with the Yankees he projects to be a fourth outfielder.
Gorecki recently signed with the Yankees as a minor league free agent. At this time it is hard to tell exactly what role the Yankees expect for him, but as of right now he'll compete for a starting job in triple-A Scranton. His chances would be greatly improved if the Yankees are forced to return Rule 5 draftee Jamie Hoffmann back to the Dodgers.
Related Stories
Read more New York Yankees news on BleacherReport.com