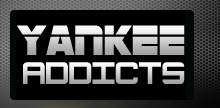 April 8, 2010 · Colin Krouse · Jump to comments
Article Source: Bleacher Report - New York Yankees
One big series gone, many more to go.
This opening series was a great one for the Yankees, taking two of three from the Red Sox at Fenway.
Many good efforts went into this series, but the one that seemed to stand out to me was Curtis Granderson's.
First off, his first at-bat as a Yankee was an absolute bomb into the bullpens at Fenway.
He also made a couple of excellent plays in the outfield, one of which included him looking over the shoulder and catching the ball while running into the wall.
All together, he went 4-12, stole a base, and hit a second dinger in the third game of the series, in the 10th inning, in a tie game. That homer played a huge role in helping the Yankees win a three game set against their hated rivals.
An outstanding effort from Granderson, especially considering it was his first series in the Yankee pinstripes—or in this case, the Yankee gray away uniforms.
Oh yeah, it was also pretty impressive how he did it all in Boston, where fans were maybe a little bit less than welcoming.
Great series, Curtis. And a very good opening series for the Yankees.
Read more New York Yankees news on BleacherReport.com