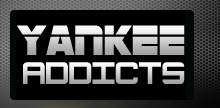 April 27, 2010 · Bronx Baseball Daily · Jump to comments
Article Source: Bleacher Report - New York Yankees
The "Core Four" of the Yankees, Derek Jeter, Mariano Rivera, Jorge Posada, and Andy Pettitte (as if I needed to tell you) got on the cover of Sports Illustrated and let me be the first to say, that is a sweet ass cover.
That being said, I don't have much else to say about the cover. Sure it's cool, but after about 30 seconds I've moved on.
Here is what others are saying about the cover:
Mark Feinsand of the NY Daily News : "You may never see a group this successful together for this length of time in sports again in your lifetime. Enjoy them while you can."
Lisa Swan of Subway Squawkers : "Because as a firm believer in the SI Cover Jinx, I feel like this cover story about the Core Four is just asking for trouble—times four. It's why I was happy that Sports Illustrated picked the Phillies, and not the Yankees, to win the World Series. That jinx is powerful stuff—look what happened to the Mets' 2009 season after SI picked them to win the World Series!"
Lisa goes on to make a good point about the Core Four, what more can be said about them? But I think Feinsand is right on the money, enjoy them while you can.
Related Stories
Read more New York Yankees news on BleacherReport.com