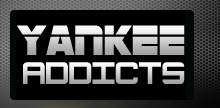 April 19, 2009 · Jake Rake · Jump to comments
Article Source: Bleacher Report - New York Yankees
It's the second inning of a Yankees game, so you know what's going on:
Chien-Ming Wang is out of the game and has allowed a zillion runs. The Yanks' opening day starter, who is owned in 91 percent of Sportsline fantasy leagues, was pummeled for eight runs in the second inning of today's (Saturday) gameagainst the Indians, including a three-run home run courtesy of fellow Asian hyphenated tri-name and Rake Blogmancrush, Shin-Soo Choo.
Wang, who is the only "Wang" to have appeared in a Major League baseball game, failed to improve upon his 28.93 entering Saturday's game, instead ballooning that figure to 34.50. He has yet to see the fifth inning of a game this season, and has now been unable to make it out of the second in consecutive starts. The line, through Saturday:
The best part of this mess, outside of his name being "Wang" (grow up; psych, it's hilarious and clearly the best part of any discussion about Chien-Ming Wang) is almost definitely Wang's WHIP, which if you're unfamiliar, is a pitcher's walks and hits allowed totals divided by the number of innings pitched, or the number of baserunners allowed per inning.
Allowing, on average, nearly five baserunners per inning is almost paradoxically bad. There are only three bases that can be occupied at anyone time, so allowing more than three runners to reach base in every single inning one pitches is a nice step to take if the goal is to reach an ERA of infinity.