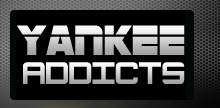 News published by
November 2, 2009
For anyone overwhelmed and surprised by A.J. Burnett's early exit in Monday night's World Series Game Five against the Phillies, here is some Earth-shattering news: A.J. Burnett totally sucks. I'm not ...
April 29, 2009
With the boo-birds out in full force over CC Sabathia's slow start to his first season as a Yankee, baseball fans prove that they can always be counted on to ...
April 19, 2009
It's the second inning of a Yankees game, so you know what's going on: Chien-Ming Wang is out of the game and has allowed a zillion runs. The Yanks' opening day ...