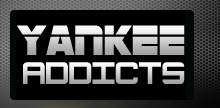 October 20, 2010 · Bronx Baseball Daily · Jump to comments
Article Source: Bleacher Report - New York Yankees
The next Baseball Bloggers Alliance award we are participating in is the Reliever of the Year Award or the Goose Gossage Award.
The Goose Gossage Award was named after the former Yankee reliever Goose Gossage because his style helped to defined the role of the modern closer. In his prime with the Yankees, Gossage had a 2.10 ERA, 150 saves, a 183 ERA+, and a 8.8 K/9 rate over a span of six years. He did it with a style of intimidation that set the tone for an entire generation of pitchers.
The BBA is comprised of nearly 300 baseball blogs and will shortly announce the winners, but first the votes must be cast. As chapter president of the Yankees chapter, I have collected and will announce the votes of the Yankees blogs that are members of the BBA. There are 13 eligible Yankee blogs that vote and our final decision counts as two votes in the overall BBA voting for each award.
Here are the eligible Yankees blogs that voted:
Here is how they voted:
1st Place: Rafael Soriano, Tampa Bay Rays
2nd Place: Mariano Rivera, New York Yankees
3rd Place: Joakim Soria, Kansas City Royals
The only other player that received any votes for this award was Neftali Feliz of the Texas Rangers.
Soriano had an interesting path to winning this award. He was the Braves setup man in 2009 and accepted an arbitration offer that appeared would keep him in Atlanta through 2010. The Braves hadn't offered him arbitration hoping he would accept it though; they wanted the draft pick compensation and had to work out a sign-and-trade with the Rays. The Rays were eager to bring him aboard because of their bullpen troubles, especially at the back end in 2009. Soriano righted the ship and helped them to capture the 2010 American League Eastern Division title.
Coming up, we still have to announce our votes for the Walter Johnson Award (top pitcher) and the Stan Musial Award (top hitter). So be sure to check back for those.
Related Stories
Read more New York Yankees news on BleacherReport.com