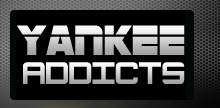 April 23, 2009 · Marisa Scolamiero · Jump to comments
Article Source: Bleacher Report - New York Yankees
The Yankees have many traditions in their organization. One of the most well-known traditions is the great men that have graced the outfield in center field.
Joe DiMaggio. Mickey Mantle. Tom Tresch. Bobby Murcer. Mickey Rivers. Bernie Williams.
Each of those players had their own set of special skills. Some won gold gloves. Others won MVPs. Some were All-Stars. All were Yankees.
All of them won World Series Championships and all of them represented the position of center field with a type of grace that not all players possess.
Bernie Williams was the last great Yankees' center fielder. Williams started to go on the decline at the end of the 2004 season. The Yankees felt that Williams could no longer fulfill the role of the everyday center fielder, and began looking for some help, and his eventual replacement.
Their first attempt was signing veteran Kenny Lofton, whose speed was going to help the Yankees in the field and on the base paths. However, Lofton never really adjusted to playing in New York and was gone in a short amount of time.
The Yankees then signed Johnny Damon for the 2005 season. Damon was never known for his great throwing ability, but he was always an excellent leadoff hitter and was viewed as a table setter, something the Yankees hadn't had since the days of Chuck Knoblauch.
Damon has suffered through injuries over the past several years and is now the everyday left fielder for the Yankees.
The Yankees promoted Melky Cabrera for some time in 2006, and he didn't fair so well. In 2007, he got another shot at patrolling center field and did much better. He impressed the Yankees more in 2007 and made the roster out of Spring Training in 2008.
Unfortunately, Melky fizzled out pretty quick in 2008 and once August rolled around, he was back in AAA, and the Yankees were in need of another center fielder.
Enter Brett Gardner.
Gardner was promoted to the big league club last summer and gave the Yankees a lot to think about. He's young, left-handed, and a speedster. While he doesn't have a great bat, he has the ability to run down fly balls, steal bases, lay down a bunt, and score runs easily.
Gardner had an unbelievable spring, and manager Joe Girardi decided to make him the every day centerfielder while keeping Melky on the bench. This decision has sparked some controversy.
Cabrera has the better arm, the better bat, and is more versatile because he's a switch hitter. However, he has difficulty laying down a bunt, and when he's on the base paths, he does not have the speed to make up for his inability to bunt. He definitely has some power in his bat but when that is failing, his discipline at the plate leaves a lot to be desired.
What Gardner brings to the table is his ability to allow the Yankees to get back to the kind of baseball that helped them win four championships in six years.
He gives them a lot of options, which is something the great Yankee center fielders were able to do.
Melky Cabrera is still an important piece in the Yankee puzzle, and it was great to see him have two home runs in Wednesday's fourteen-inning game against Oakland (one of those home runs won the game). However, Brett Gardner has proved himself worthy of the starting job and will be an asset for the Yankees.