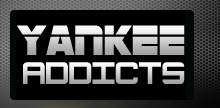 News published by
September 8, 2009
2008 marked Joe Girardi's first year at the helm of the Yankees' ship. After his first year in spring training, Girardi was viewed as somewhat of a drill sergeant, making ...
August 26, 2009
Throughout the 90's, the Yankees ruled October baseball amassing four championships in five years. However, they haven't been to the World Series since 2003, and they haven't made it past ...
July 29, 2009
Organizations are all about protecting their young arms. They heavily monitor pitch counts and usually set an innings limit so that there is less chance of them over working their ...
July 19, 2009
When it comes to traditions in baseball, no other organization is as well-known for their way of keeping with traditions like the Yankees.  Some of the greatest players in the game ...
July 18, 2009
Three years ago, the Yankees were all abuzz about one of their farm hands named Phil Hughes. Hughes was drafted out of high school, and was considered to be the ...
July 13, 2009
Each year, when the All-Star break comes around, a lot of fans take the time to catch up on the TV that they miss during the baseball season. There are ...
July 4, 2009
70 years ago, a man stood on the field at Yankee Stadium and told the world that he was the luckiest man on the face of the earth. That man ...
July 2, 2009
On Tuesday night, the damp crowd at Yankee Stadium was eagerly waiting for the start of the game after a 50 minute rain delay. Michael Kay, Paul O'Neill, and Ken ...
June 29, 2009
The Subway Series tends to produce a lot of great moments. The games are never short and sweet, the most unusual things happen (just ask Luis Castillo), and the fans certainly ...
June 26, 2009
Last year at this time, Francisco Cervelli was working his way back from a severe wrist injury. The young catcher, who has been a highly touted minor league prospect for ...