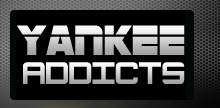 July 19, 2009 · Marisa Scolamiero · Jump to comments
Article Source: Bleacher Report - New York Yankees
When it comes to traditions in baseball, no other organization is as well-known for their way of keeping with traditions like the Yankees.
Some of the greatest players in the game have worn a Yankee uniform at one time or another, and it is because of the reputation the Yankees have for bringing the best to the Bronx that past and present players have said that donning the Yankee pinstripes is like nothing else.
One of the greatest traditions the Yankees have is Old-Timers' Day. Yankee greats of the past gather where they are greeted with loud applause from the fans who remember what they did in their day or who have heard all the stories. The former players are split into two teams, and they play a short game.
No team could hold an Old-Timers' Day and have the likes of Whitey Ford, Reggie Jackson, Goose Gossage, Ron Guidry, Yogi Berra and countless others on the same field.
John Sterling and Michael Kay shared the MCing duties, and it's pretty remarkable when they read the list of accomplishments of the Old Timers. At today's celebration, there were four Hall of Famers on hand (Yogi Berra, Whitey Ford, Goose Gossage, and Reggie Jackson). Not to mention two pitchers who pitched perfect games and one who pitched a no-hitter during their time in pinstripes (Don Larsen, David Cone, and Doc Gooden).
Beyond their personal accomplishments, once the cameras panned to the dugout, it was clear to see why they all love coming back for this particular tradition. These guys really enjoy being around each other. They love talking about their glory days and swapping stories about their experiences while playing for the Yankees.
Just because these guys have officially hung up their cleats doesn't mean that they've stashed their competitiveness away. They are out to have a good time, but they also want to prove they still have it, which is why Ron Guidry threw Lee Mazzilli a slider to strike him out instead of giving him something to hit.
At the end of the day, it really doesn't matter who wins the game since they are all Yankees, and will forever be a part of the organization's great history. Each year brings new faces to the celebration and this year, for the first time ever, Old-Timers' Day wasn't played at 161st Street and River Ave, but at the new stadium across the street.
The faces may change, the location may change, but what will never change is the way the Yankees honor those who have meant the most to their organization and to their fans. Sometimes, tradition is severely overlooked, especially in these current times. However, Old-Timers' Day gives fans as well as players a chance to remember those who were a part of something special.
You really have to appreciate the past in order to appreciate the present as well as what's to come. Without traditions such as this, things and people tend to be forgotten. Seeing all of those players out on the field today is a strong reminder as to why those things and those people should never be forgotten.