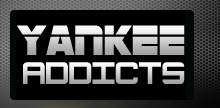 June 22, 2009 · Kate Conroy · Jump to comments
Article Source: Bleacher Report - New York Yankees
I thought the motto of "win series" was going well, but the tides have turned on the second place NY Yankees. My Yanks lost a second series in a row to the Florida Marlins, who took two of the three games over the weekend.
I live in Manhattan where it has been raining so much I think the sun might blind me when it does come out again; I am in a down state. Everyone else here is sick of this weather, as well.
So when the Yankees were in first (I swear, for about two weeks the team was ahead of Boston.) it made the rain tolerable. Since the return of the last Boston massacre in B-town, the rain has been non-stop.
I am not counting the fact that the Yankees have been away from the Bronx and still lost. How can I declare this rule? Only because all of us, your fans, were still soaking wet, so it doesn't count. In my head I will take the song line from one of my favorites and "Blame It On The Rain!"
Now I give you my personal observations of this downward coil created by my Yankees. I want the sun to shine on our marvelous city again.
What did I learn watching the Bombers against the Florida Marlins in another interleague series?
A-Rod was given a TO to rest, as something is just not clicking for him right now. He has played in every game since returning from his hit surgery. I will not excuse any player (except Jeter) for poor performance, but this situation with A-Rod's case is legitimate. Alex came back from a serious hip surgery and he came back from it rather quickly.
I sometimes forget this fact. With A-Rod, it usually seems to be something else, meaning things that aren't baseball get the focus, thereby annoying fans. A-Rod deserves some slack here.
Do I like hearing he was out partying with his new girlfriend, Kate Hudson? Absolutely not! Who am I to judge what a person should do on their days off? Hudson is a heartbreaker, and if her past predicts the future with this relationship, it will be over soon. Drama continues off and on for A-Rod!
I forgot how fun it is to watch our AL pitchers hit; it looks so bizarre.
Pettitte had an immense hit and loved watching every minute of it. I was looking forward to seeing CC swing the bat. I remember when he hit a huge homer last year with the Indians against the Dodgers last year to win the game, which was awesome!
I hope he is all right as I was under the impression that the hot weather was his thing. I know this oblique strain is not a new injury and it has bothered our $161 million ace before. Girardi made a good call not letting him stay in one more second after CC pleaded to stay out for one more at-bat.
Here are three questionable situations that I cannot stop wondering about.
Damon hurt his leg, did pinch hit for a walk tonight, but not letting him stay on first makes me worry, as Damon has wheels.
Jeter's ankle is still questionable and he is an Oscar-worthy faker of not letting on.
Where was Hughes tonight when CC got pulled? I cannot seem to figure or find any reason behind this one yet. I did consider the idea if CC can't make his next start, Hughes will fill in. That is next Friday in Subway Series, so it's slightly doubtful.
Monday is a day off, which I hope makes the Yankees realize that they are digging themselves into a hole that doesn't need to become a ditch.
Here are the facts:
Red Sox won today, so we are four games behind our rivals. Boston has won seven of the last 10 played with the Yanks, losing six of 10 games in same run.
Tampa won, so the heat is on with the Rays. The young club is 7-3 in their last 10 games with the talent on Tampa. I feel "Here come those Rays" chants coming. The only things old about this Florida club is the word "devil" and that they are still six games from first place, but only two behind the Bombers.
Let's not forget the Blue Jays, as they're a game in front of the Rays, which leaves just one out of tying the Yankees.
I am still in shock that Wang will even put himself on the mound to start on Tuesday in Atlanta. I do not need to explain why; everyone knows this except the Yankees. Hughes should be starting—end of story.
I recognize the justification of a setback; it is unavoidable in professional baseball. We all know that on June 8 the Yankees were 11 games over .500 and in first place. Their length of time as the kings of the remarkably tough AL East was about the amount of sun seen in NYC since. Obviously, there's not much time at all to feel confident in this division race to not worry about our chances to play in October.
Gardner, Cano, Tex (love this guy), Melky, Jeter, and Posada are the heart of this club right now. Jeter's first swing at the bat tonight to lose the series was a bummer but he made up for it plenty. Anyone who is a fan of any team can back me on this.
This is still a great team, so they should try to play like it again. I know everyone's tired now and not even halfway through yet, but this is not the season where "rest" is in any team's vocabulary.
Now the Yankees team are all flying to Hotlanta to play the Braves in another interleague series. Please, before taking to the field on Tuesday, feel free to have blasted the Milli Vanilli single and just "Blame It On The Rain."
It would feel so lovely to arrive back home to the Mets with some wins!
Here is a little help.