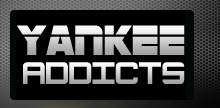 May 8, 2009 · Perry Arnold · Jump to comments
Article Source: Bleacher Report - New York Yankees
Forrest Gump: "Momma said, "Life is Lak a Bawx O' Chawklets. Ya nevah know what yer gonna get."
Wednesday night Michael Kay on YES Network said New York Yankee Manager, Joe Girardi never knew what he was going to get out of his bullpen.
That night, the Yankees had tied the score in the eighth inning on a bases clearing three run double by Mark Teixeira. Mariano Rivera had been brought in to stop the Tampa Bay Rays in the ninth and did his job.
But after the Yankees failed to win the game in the bottom of the ninth, lefty, Phil Coke, gave up the game winning solo home run to Carlos Pena in the top of the tenth.
Last night, the Yankees had battled back to tie the game when Johnny Damon hit a two run homer in the eighth.
Again, Mariano was brought in for the top of the ninth to hold the tie.
But this time Mo, thought by many to be the best closer in the history of baseball, gave up back to back home runs to Carl Crawford and Evan Longoria and the Yankees lost another heart breaker.
This has been the story of the Yankees bullpen so far this season. There have been games when different relievers have been very good, including Rivera.
There have been other games when any pitcher brought in from the pen has created homicidal thoughts among Yankee fans.
Rivera had not given up a run through the Yankees first 15 games. But that all changed one Friday night in Boston.
Brought into the game in a strange situation, with two outs in the eighth and after Jonathon Albaladejo had gotten a one strike count on the hitter, Rivera finished the eighth.
But then in the ninth, Mo gave up a two run home run to Jason Bay that allowed Boston to tie the game at 4-4. It was Rivera's first blown save of the season.
Rivera didn't pitch for five days. But then he gave up a ninth inning three run homer to Curtis Granderson of Detroit after there were two out. The Yankees lost 8-6.
In the Wednesay night game against Tampa Bay, Mo looked untouchable striking out the side in the ninth.
And then last night he was the rancid nougat in the box of chocolates that looked like it had been sitting on the shelf too long.
Until the game on April 24 in Boston when Girardi jerked him after letting him get two outs and throw one strike to the last hitter in the eighth inning, Albaladejo had looked very good.
In two outings in Baltimore in the first series of the year, the rookie Albaladejo was unhittable.
Then Girardi did not use him for four games. Against Tampa Bay on April 13, Albaladejo was as bad as every other Yankee pitcher who toed the rubber in the 15-5 loss.
Albaladejo pitched three innings, gave up five hits and three earned runs.
Girardi kept the big right hander quiet for three more games, but when he came in against Cleveland he pitched perfect inning in two straight games.
He pitched another perfect inning against Oakland two days later. And he was just as perfect that Friday night against Boston getting out all three batters he was allowed to finish before Girardi inexplicably yanked him.
At that point the kid's ERA stood at 2.70. He has made five appearances since that time and his ERA is now 6.43. He has had some good outings during that stretch, but one has to wonder if Girardi's lack of faith in him in Boston didn't affect this kid overall.
Phil Coke is another story of wonder as he has pitched beautifully at times and at other times he has been terrible as against Kansas City when he allowed three hits and two earned runs in blowing a save and allowing the Royals to steal a win.
Coke also gave up three earned runs in the embarrassing 15-5 loss against the Rays in Florida.
But then Coke had nine straight appearances when he allowed no runners to cross home and he had reduced his ERA to 3.38 before letting Tampa steal the win Wednesday night on Pena's tenth inning homer.
After Brian Bruney went on the DL, young Mark Melancon was called up and he seemed to be just the right answer at first.
In his first two outings, Melancon was untouchable. Since, he has been mediocre at best. He has given up earned runs in each of his last two appearances and Girardi has not used him in the last two games.
The same kinds of things could be said about every reliever in the Yankees pen.
Jose Veras has had his moments but still sports an ERA of 7.20.
David Robertson has not been given many chances but has done well in some games. His ERA is 3.86.
Edwar Ramirez has also been up and down. He held Tampa scoreless in the one inning he pitched Wednesday night, but still has an ERA of 4.63.
Alfredo Aceves and Anthony Claggett weren't used enough to really determine whether they could have been effective.
Girardi's problem with his bullpen seems to be the same as many of us who are confronted with a box of chocolates. We can't decide what to choose and sometimes we really like what we get and go back for more until it doesn't taste too good anymore.
Then we also may tend to ignore a morsel far too long when it would have been really good but sits in the box until the chocolate has faded and the center is too soft.
It is unlikely any long term success will be in store for Girardi unless he does a better job of picking the right morsels from this box of chocolates.