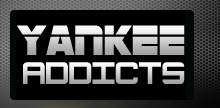 April 21, 2009 · Gary Marchese · Jump to comments
Article Source: Bleacher Report - New York Yankees
The New York Yankees defeated the Oakland Athletics by the score of five to three tonight. Andy Pettitte got the start and pitched seven strong innings giving up two runs. Brian Bruney actually gave up a couple of hits and a run in the eighth but got the ball to MO with the two run lead.
Mariano Rivera shut the door in the ninth giving up a single but that was it. Andy Pettitte and Mariano Rivera tied Dennis Eckersely and Bob Welch record of most combined wins/saves from teammates with 57.
Johnny Damon hit a solo home run and had another RBI for the offense, Mark Teixera had a walk and RBI single, and Brett Gardner had a two run single. He also made a great catch in center field robbing Jason Giambi of a extra base hit and had a stolen base.
Derek Jeter had a couple of hits and a walk and Jorge Posada went 2-for-4. Hideki Matsui went 2-for-3 with a walk as he has looked better the last couple of days, so hopefully they can just watch his knees and give him some rest when he needs it and he will be ok.
Cody Ransom did have a hit but he looks lost at the plate and isn't playing great defense either, I wonder if when A-rod gets back if he goes back to the bench or to AAA-Scranton and they may bring someone else up or leave Ramiro Pena as the utility infielder.
The Yankees play a 1 p.m. game tomorrow with CC Sabathia on the hill against young lefty Brett Anderson. They will have a off day on Thursday and then head up to Boston for the first installment of the Rivalry 2009.