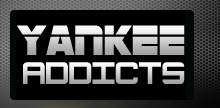 April 20, 2010 · Jordan Schwartz · Jump to comments
Article Source: Bleacher Report - New York Yankees
At 9-3, the Yankees have the second-best record in baseball behind the 10-3 Rays, but now New York ventures out of the Bronx for a long nine-game road trip, including six contests on the West Coast.
The first three of which are in Oakland, home of the American League West leading Athletics. The A's offense is mediocre, but its pitching is among the best in the game.
Oakland leads the AL in ERA (2.90) and OPS against (.655), while ranking second in batting average against (.234), WHIP (1.23) and quality starts (9).
Let's take a look at the pitching matchups for this three-game series.
Tuesday, April 20 – Javier Vazquez (0-2, 9.82) vs. Gio Gonzalez (1-0, 3.38)
The Yankees have lost just three games this season and two of them were started by Vazquez. The current weak link in the rotation looks to turn things around vs. the A's, a team he hasn't had much success against in the past.
In seven career starts vs. Oakland, the right-hander is 2-3 with a 4.98 ERA, and 1-2 with a 5.63 at the Coliseum, but the current roster only hits .176 off him.
Only Daric Barton (2-for-5), Jake Fox (2-for-4) and Cliff Pennington (1-for-1) have an average north of .200 against Vazquez, and that's in very limited at-bats.
Meanwhile, Mark Ellis is 3-for-16 (.188), Eric Chavez is 1-for-10 (.100) and Kurt Suzuki is 1-for-9 (.111).
After a solid 2010 debut at the Angels, Gonzalez struggled with his control in his last start at Seattle, walking four in 4 2/3 innings.
The southpaw's only career start against the Yankees came last July 25 in the Bronx, where he earned the victory by yielding just one run on two hits in 6 2/3 frames.
Current Bombers have not hit a single home run off Gonzalez in 27 at-bats. Mark Teixeira and Curtis Granderson are both 1-for-4 (.250), while Alex Rodriguez, Nick Swisher, Robinson Cano and Derek Jeter are a combined 0-for-11 with four strikeouts.
Wednesday, April 21 – Phil Hughes (1-0, 3.60) vs. Ben Sheets (1-0, 2.65)
Hughes, who is from Mission Viejo, Calif., was wild in his first start. He issued five walks in five innings, but he only gave up two runs on three hits while striking out six in a win over the Angels.
The right-hander has never started a game against the A's, but he's thrown 4 1/3 scoreless innings in relief vs. Oakland, including one frame on the road.
Only four Athletics have faced him: Suzuki is 0-for-2 with a strikeout, Barton doubled in his only at-bat, Pennington is 0-for-1 and Ryan Sweeney walked in his sole plate appearance.
Sheets is coming off six scoreless innings in a win over the Orioles, but the ace of the A's staff has walked 10 and struck out only eight in 17 innings this year for a bloated 1.71 WHIP.
The former Brewer has only faced the Yanks once, pitching seven scoreless, two-hit innings against them for the victory. However, he did walk five.
Current Bombers have just three singles in 24 at-bats (.125) vs. the right-hander. Teixeira is 1-for-4 (.250), while A-Rod, Jorge Posada, Cano and Granderson are a combined 0-for-11.
Thursday, April 22 – CC Sabathia (2-0, 2.84) vs. Dallas Braden (2-0, 2.70)
Sabathia should be able to throw 120 pitches – Joe Girardi-willing – after making just 73 deliveries in a rain-shortened win over the Rangers on Friday. The big lefty has surrendered only one run on four hits in his last 13 2/3 innings.
Sabathia has been roughed up by the A's in the past, though, putting up a career record of 5-7 with a 5.80 ERA in 18 starts. He is 2-4 with a 6.35 mark in nine games at the Oakland Coliseum.
But the current roster hits just .206 off the southpaw. Chavez is 3-for-20 (.150) with eight strikeouts, Rajai Davis is 1-for-12 (.083) and Kevin Kouzmanoff is 2-for-11 (.182) with five K's.
Braden has made three straight quality starts to open the season, while striking out 16 and walking just three.
However, the left-hander is 0-1 with a 7.71 ERA in four games (one start) against New York. Expect Marcus Thames (4-for-11, .818 slugging) to get the start along with the everyday players, Teixeira (3-for-10), Jeter (3-for-5) and Rodriguez (2-for-2).
Granderson, meanwhile, has just one hit in eight lifetime at-bats (.125).
Follow me on Twitter at JordanHarrison .
Jordan Schwartz is one of Bleacher Report's New York Yankees and College Basketball Featured Columnists. His book Memoirs of the Unaccomplished Man is available at amazon.com, barnesandnoble.com, and authorhouse.com.
Jordan can be reached at jordanschwartz2003@yahoo.com
Read more New York Yankees news on BleacherReport.com