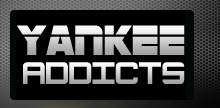 June 1, 2009 · Todd Civin · Jump to comments
Article Source: Bleacher Report - New York Yankees
My reputation proceeds me. I'm a certified Homer. Born and bred Red Sox Red. I am to the Red Sox what Heartbeat of the Bronx is to the Yankees. "My Sox" can do no wrong, and I'm quite certain that HB feels the same about "his Bombers".
It should come as no surprise, then, that after Czar Steinbrenner III backed up Daddy's ship full of Franklins this winter and effectively monopolized the free agent market, that I waxed poetic about the flawed way this is to build a championship.
Though the Red Sox are historically in the upper layers of the ozone on the spending chart, they have recently resorted to a mix of home grown talent and low risk, high reward salaries.
I know, the Sox are still saddled with J.D. Drew and Julio Lugo, but on the whole, they have changed from shopping at Tiffany's to shopping at Service Merchandise.
I wrote an article during the winter about Sabathia's weight and how he and Fernando Valenzuela had identical statistics over their first seven seasons, only to go 60-71 over his last eight.
Boy, did the Yankees overpay!
I spoke of A.J. Burnett and his knack of getting up for all the big games, as long as they occur in a contract season and how A.J. would not be able to hold up under NYC scrutiny. And I called Teixeira a spoiled prima donna after he had scorned the Sox in favor of the Pin Stripes.
How could he go to the Yankees for a mere $14 million more?
And then my wildest dreams started to unfold. A-Rod shared needles with his cousin, waltzed a bit with Selena Roberts, and then went down with a debilitating hip injury.
Wang went lame and Nady went down. And Bruney. And Posada. And Marte…and on and on.
Even Posada's and A-Rod's backups went down in Molina and Ransom. Of course, the Sox could make space between themselves and the Yankees third string.
Teixeira started out swimming below the Mendoza line and Matsui was only a stroke or two better. Sabathia stumbled a bit coming out of the blocks, and I knew it was from either one too many late nights at Taco Bell or one too many of the same at Pache'.
With each 22-4 loss, implosion of the bullpen, or jet stream shot to the right field porch, I was so sure that this was yet another case of good prevailing over evil. Another vote for my Syracuse University minor in business over Hal Steinbrenner's master's at the University of Florida. I knew how to build an organization. After all, I had that yard sale in 1995 that was the envy of the neighborhood.
Not sure whether it was Papi's shirt buried beneath the stadium, the Bizarro Curse of the Bambino, or Joe Torre's Maloik, the Yankees first five weeks of the season resembled Bernard Madoff's winter. It simply wasn't looking good.
Sitting in third, closer to fourth with a record of 13-15, the Red Sox and the surprising Toronto Blue Jays had the Yankees on the mat, with a boot to the esophagus.
Staggered, but not down. And they kicked out faster than Eddie Guerrero in Wrestlemania XX.
From the moment A-Rod came off of the disabled list, the Yankees went from stagger to swagger. The very first pitch that Rodriguez saw from Orioles ace Jeremy Guthrie was deposited into the NY jet stream, and the Yankees haven't stopped since.
Coming off being swept in consecutive two-game series at home by the Red Sox and Rays, the Yankees have gone 16-6, including 14 of their last 18. Though only hitting .260, A-Rod has contributed seven home runs and 21 RBI, and has solidified the Yankees feared batting order.
Since A-Rod's return, Teixeira has been red hot and brought his sub-.200 average to .281, with 16 homers and 44 RBI. His average since A-Rod's return is .375, including hits in 13 straight games and 18 of 19.
Sabathia followed up his sub-par April in which he finished 1-2 with a 4.73 ERA with a Sabathia-esque May, winning four of five with a 2.56 ERA. He has clearly shown that he is the top of the rotation ace that the Yankees shelled out big dollars for.
Even the bullpen, which wore a path of left field to the hill during April and early May, seems to have for the most part settled down. Though Bruney and Marte are still out with injuries, veteran Brett Tomko and youngsters Dave Roberson and Alfredo Aceves have all been solid.
Chien-Ming Wang, who taxed the Yankees bullpen earlier in the season with starts of 3.2, 1.0 and 1.1 innings, has returned from the DL and thrown eight solid innings of relief.
Additionally, the Yankees wounded are starting to get healthy. Posada returned from the DL this week and has gone 3-10 with a homer, while Bruney, Marte, Nady, and Molina are all entering their final phases of rehab.
So as the two perennial AL East leaders come out of the first turn, the Yankees are on top by a half game, and I'm not nearly as confident as I was three weeks ago.
My wish of seeing them implode has not occurred, and my suspicion is I'll still be biting my nails in September.
And though five weeks does not a season make, it was sure fun while it lasted.