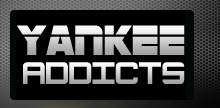 News published by
November 16, 2009
As I chatted with Andy Strasberg about his new baseball related venture called Fantography™,  I couldn't help but hum Rod Stewart's 1971 anthem, "Every Picture Tells a Story." In actuality, however, ...
October 16, 2009
A little girl's unconditional love for her father is a heartwarming story that I can hear over and over again without tiring of it. More so, I feel absolutely within ...
September 8, 2009
When any baseball fan hears the name Bernie Williams, a distinct image immediately comes to mind. Brimming with class, a confident smile, and, of course, dressed in pinstripes, Williams is ...
August 13, 2009
It's funny how life sometimes brings you down a path you didn't plan to walk down. You welcome its existence and take the first step with a slight sense of ...
August 13, 2009
Harvey Schiller, President of the International Baseball Federation (IBAF) could perhaps see the writing on the wall this morning when he logged onto his Facebook page. Perhaps more accurately, Schiller's friends ...
August 9, 2009
The New York Yankees and the Boston Red Sox employed drastically different philosophies this offseason while shopping for the latest in fashions for their World Series wardrobe. While Yankee ...
August 5, 2009
When I last spoke to former Major League Baseball catcher Ed Herrmann for the story, "Catcher Ed Herrmann Scores Many Holes In One Following Baseball Career", he was busy, not ...
July 26, 2009
Earlier this week, Yankee writer extraordinaire, Heartbeat of the Bronx won yet another Pick of the Day, with his story entitled MLB's All Catholic Team: Where Mystique May Come From ...
July 23, 2009
Terence Mann: Brett and PJ, people will come. They'll come to the ball park turned movie theatre for reasons they can't even fathom. They'll turn into the parking lot not ...
July 10, 2009
I'm really not sure what's going on with my body lately. Seems like I look at food and immediately add 15 pounds to my svelte and chiseled figure. My wife ...